Aqualyx the fat dissolving treatment for double chins
06/10/21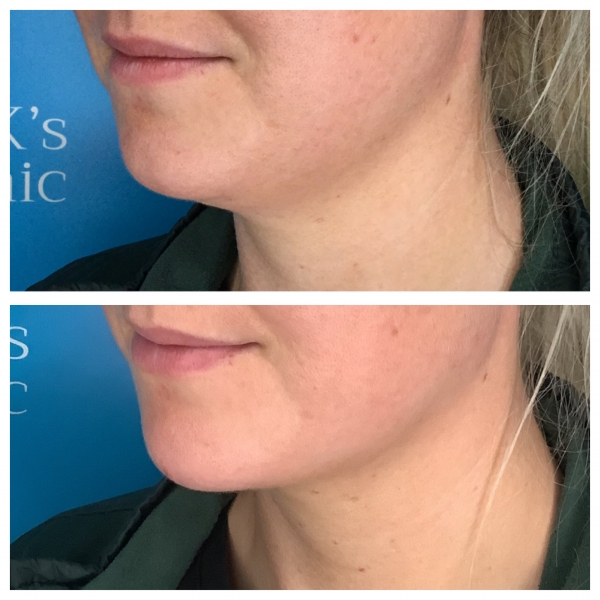 WHAT IS AQUALYX?
This is a fat dissolving injectable treatment available in UK aesthetic clinics and a very popular treatment at Dr K's Clinic in Burton in the outskirts of Chester. There are others like Desoface & Desobody, Lipostabil and Lipodissolve. Kybella is FDA approved in the USA, it is known as Belkyra in the UK and is a prescription only medicine. This means it should only be prescribed by those who can prescribe medications eg; Doctor.
WHERE CAN IT BE USED?
Even though it can be used for pockets of stubborn fat in several different areas of the body, I use it exclusively in the double chin area. Fat accumulates in this area because of ageing and genetics and is very difficult to get rid of with diet and exercise alone.
HOW MANY TREATMENT SESSIONS DO I NEED?
This varies. Some need just 1 session while others require 4. You will be given an estimate as to how many you are likely to need to get the best results.
IS THE TREATMENT PAINFUL?
I've had it done and would say it is around 2 out of 10, where 10 is child birth! It is a 10 minute procedure and it is made tolerable as local anaesthetic (LA) is injected into the spots where the product is injected and the LA is also mixed into the solution itself. In the evening after the treatment, there can be a heat and burning sensation with the post treatment swelling and cold pack applications can help.
WHEN DO I SEE THE RESULTS FROM AQUALYX?
The swelling from the treatment peaks at day 5 for most people however the residual swelling has usually vanished by week 6. At that time you will be assessed and judged whether another treatment is needed to achieve the defined jawline you want.
HOW LONG WILL THE RESULTS LAST?
As this product disrupts the cell wall of the fat cell, when the fat in the middle spills out your immune system mops it away and flushes it out of the kidneys. Once the fat cells have gone, they have gone for good. However if you gain weight then the neighbouring fat cells may swell to fill the area left empty by the treatment.
WHERE CAN I GET MORE INFORMATION?
https://www.drkenningham.co.uk/treatments/aqualyx.php
All services are provided by me, Dr Maeve Kenningham, I'm an experienced dermatology doctor and have worked in aesthetics for 10 years. I have a beautiful relaxing clinic in Burton, on the Welsh border just off the A483. I offer a range of treatments that deal with the tell tale signs of ageing, like; sunken eyes, lost lip volume, lip lines, lost jawlines and wrinkles. Book yourself into a face to face consultation with me. I will assess your concerns and give an honest discussion about whether Aqualyx will work for you and how many sessions you are likely to need. There is an easy to use electronic booking from the "contact me" section of the website, here's a link:
https://www.drkenningham.co.uk/contact-me/
Alternatively please call the clinic on a Tuesday, Thursday or Friday and we will book you in.
Do you want to achieve a natural and more
youthful appearance? Book a consultation
with Dr K in her award winning clinic
Contact me today