Dermal HA Fillers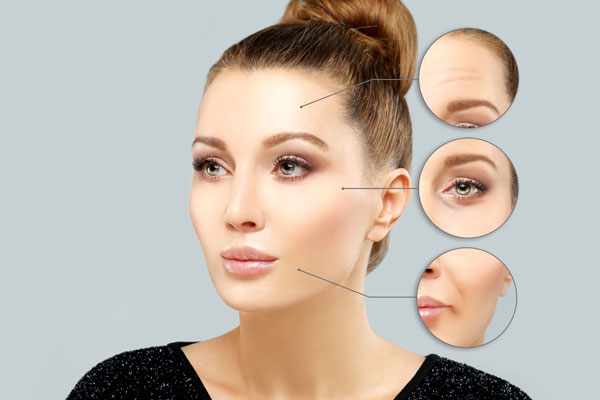 Treatment summary
Treatment time: 45-75 mins
Recovery time: Immediate / overnight
Results seen: Immediate and continued improvement for 4 weeks on average
Duration of results: Depends on area chosen, eg lips: 6-9 months, Cheeks 9-18 months
Possible side effects: Bruising, swelling, infection
Prices
The cost will depend on the complexity of the treatment and the amount of raw product needed, so a quote will be given at the consultation. Injectable services are only available to patients over 18 years of age and only after a detailed medical consultation.
Discounts are applied when additional syringes are used at the same treatment session. A full quote will be given at the consultation.
Treatments start at £250
The Bio-nutrilift: A mixture of mesotherapy and 1 HA Filler £570 (course of 2 sessions)
Dr K's LIFT: This is a unique service tailored to address your particular concerns in a cost effective way are often termed The Liquid Facelift. Please see How I Can Help section for more details. These are termed Dr K's Level 1,2 and 3 LIFTs and prices start from £1,000
What areas can be treated?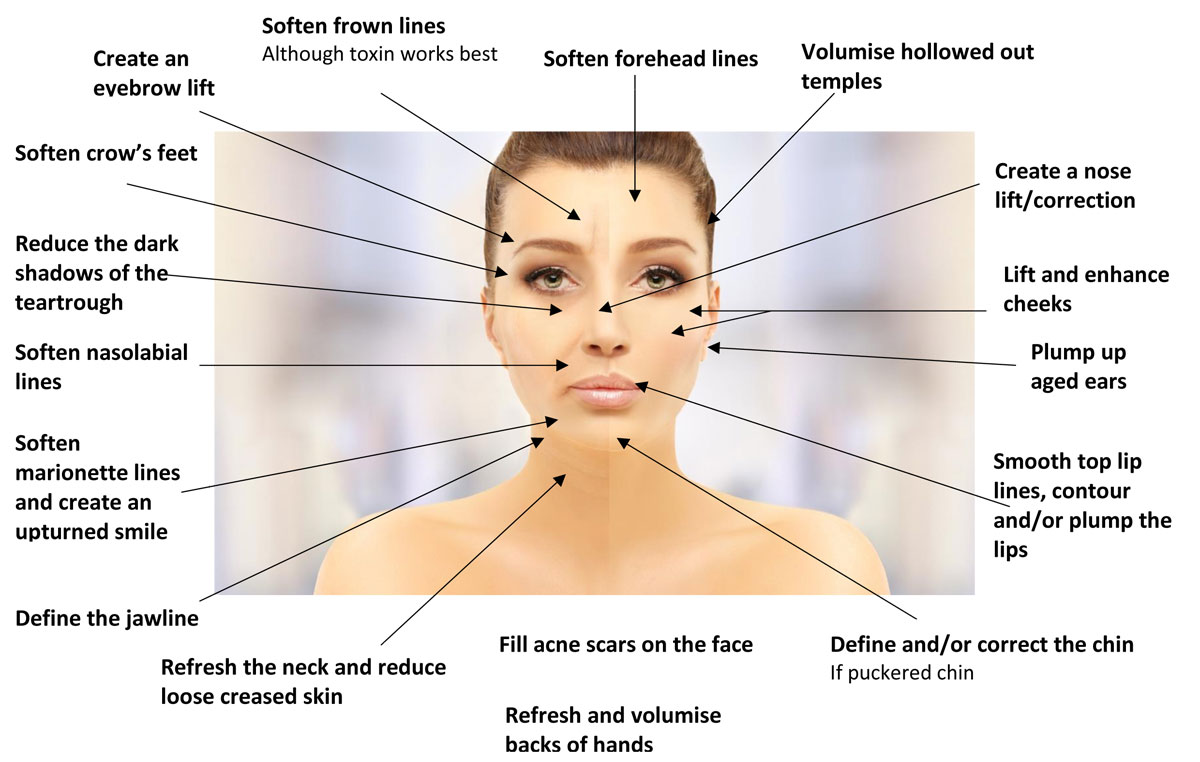 FAQ
Click a question below to expand
Hyaluronic acid (HA) fillers mimic the naturally occurring substance in your body that diminishes over time. When injected it can add volume, lift and hydration to areas of the face that have sunken with age or weight loss.
Syringes of HA filler usually contain a tiny 1ml of product so 5 are needed to fill a teaspoon, a small amount of volume. It is estimated we loose 2mls of volume from our face every decade after 25 years of age. However after the menopause, this volume loss is accelerated. This is when we need to use 5 syringes or more to restore lost volume.
The effects are seen immediately after treatment and continue to improve for 4-6 weeks.
Not really, I use cannulas where possible. These are hollow tubes that are inserted into the skin through a hole (made by a needle). This blunt tube is then guided under the surface of the skin depositing filler along the way.
These are more comfortable than having repeated needle injections and are generally safer than needles, as they glide around vessels in the face. I often also use numbing cream, injectable local anaesthetic and/or ice to make things more comfortable for you. So the procedure is remarkably well tolerated.
HA fillers can last anywhere between 6-18 months, an explanation will be given at your appointment as to how long your treatment would be expected to last as it depends on many factors.
Remember, you will continue to age, even when your filler is still present.
No, but most patients want to maintain their look, as they feel happier with their appearance. Your natural ageing process continues and your filler will disappear as it is broken down and eliminated from your body.
However if you have invested in your appearance it is more cost effective to keep up with regular "boosts" of filler to maintain your refreshed look.
Unfortunately yes, but this is often because the wrong type of filler has been injected into the wrong place and by the wrong person. Fortunately there is an injectable enzyme that can dissolve HA fillers (hyaluronidase), but this can only be kept as stock by someone who can prescribe medications, eg: a doctor/dentist.
The benefits of filler treatments can be life enriching. However, did you know it is legal for unqualified people to inject fillers into your face if you have given permission to do so? This is where things go wrong and nightmare stories appear in the press.
There are no real precautions. However if you want to minimize the chance of bruising you could stop alcohol, vitamin E supplements, aspirin (if it is safe to do) and other anti inflammatories (eg: ibuprofen, naproxen, diclofenac) 3 days before the procedure.
Please postpone your appointment if you have an infection.
Yes there is. You will be given written information about this when you attend for a consultation.
Please refrain from makeup application for 12 hours. Avoid vigorous exercise and extremes of temperature for 3 days after your treatment. Bruising can last 5-10 days (depending on where has been injected), so do not have this done less than 2 weeks before a big event or a holiday away.
It is not suitable for patients under 18 years of age or those ladies who are pregnant or breast-feeding. You will need a detailed consultation if you have permanent facial implants as sometimes filler cannot be used on top of certain prosthetics.
Photo gallery
The results below were obtained in my clinic but your results may vary, as facial anatomy varies between patients.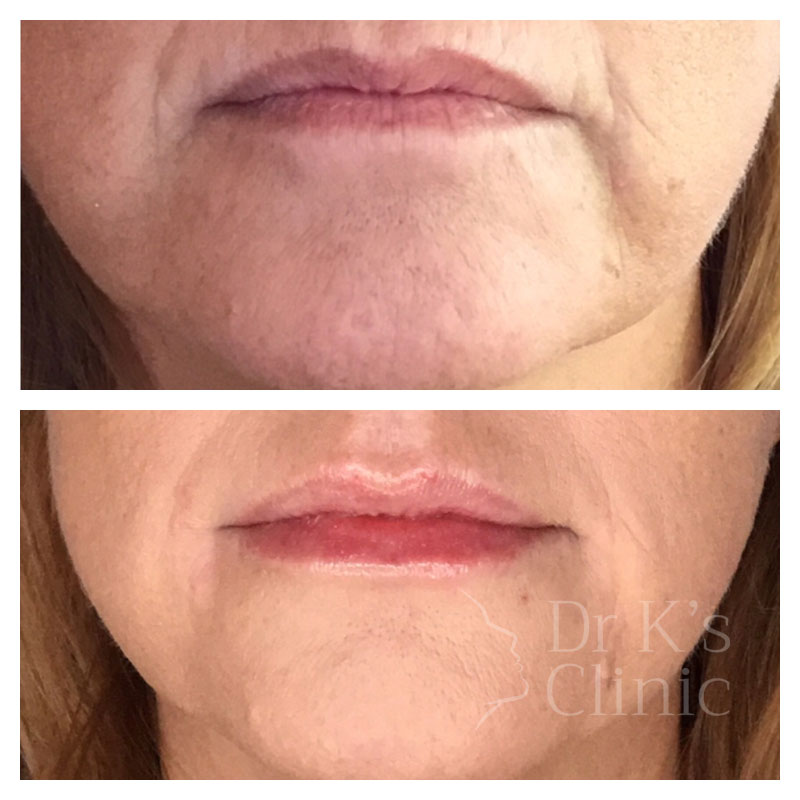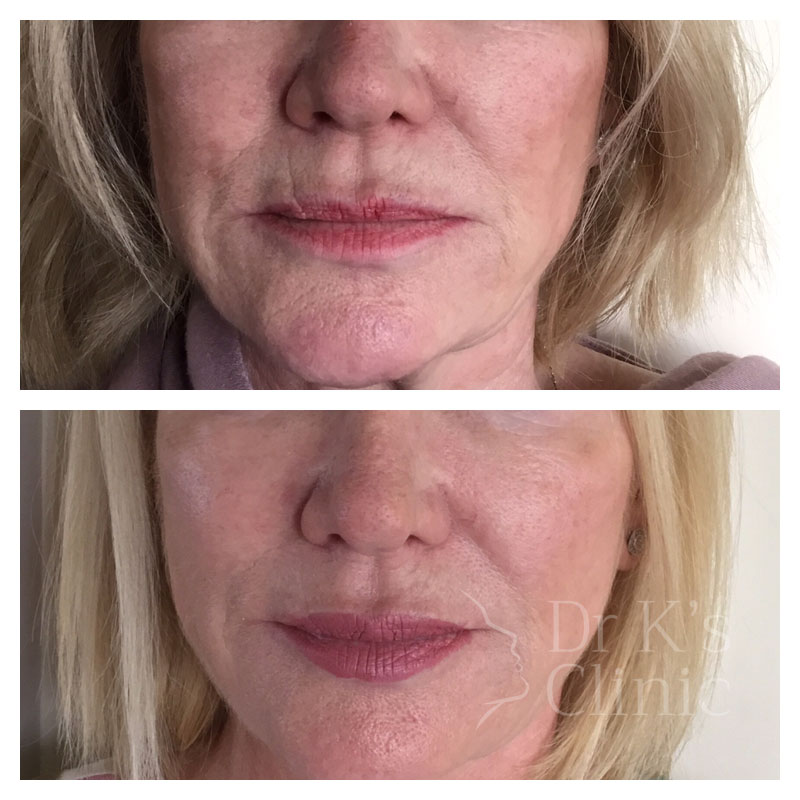 Testimonials
I started treatment with Dr Kenningham as I couldn't bear my sagging face any longer. I have had a few single areas treated a few years ago and results were a little bumpy and needed sorting. Dr K's holistic approach is just what I was looking for as I'm in my early fifties I didn't want anything obvious.
The treatments I had, mainly fillers with a little botox and fat busting under my chin have all been pain free and never rushed. The results are amazing. I feel like I look years younger and everyone comments how well I look and no one has said that for years. Dr K isn't pushy, is completely honest and has great value lift packages all of which are very important to me.
DJ
Dr K's Clinic

is rated 5.0 stars from over

20

reviews on Google
Do you want to achieve a natural and more
youthful appearance? Book a consultation
with Dr K in her award winning clinic
Contact me today