How can I help you gentlemen?
You men have aging issues too. Professional men are embracing the positive attitude to skin care and aesthetic treatments. Read on if you want to improve your look to appear younger, rested, fresher and generally less stressed.
The ageing male face often suffers the same insults that ageing causes in women, but with a few differences. Below is an example of youthful man's face and one of an older man. Looking at the differences side by side illustrates what happens a man's face when he ages. The problems you may have are listed below and a brief explanation of what I use to treat them.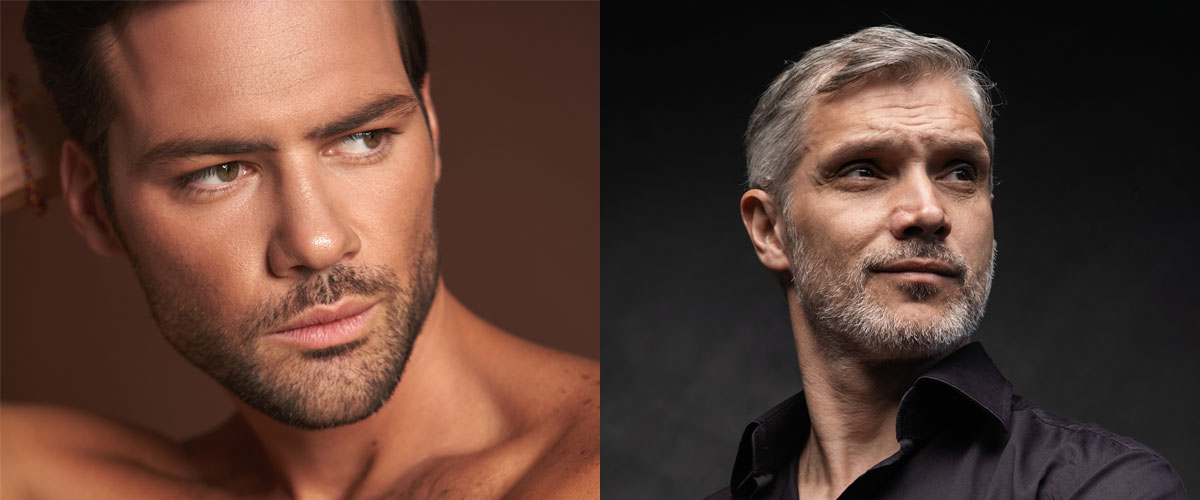 Let me outline what your possible concerns may be and how I can help you fix them. Please see the treatments section for more information on the specific details of the treatments. Please be aware treatments like Botox (toxin) are a prescription only medication and will only be offered if the doctor feels it is appropriate after a detailed consultation.
Dull, sun damaged, oily skin: I use a wide range of medical grade peels, medical grade creams and injectable therapies. No matter what your skin concern is, peels and skin care are cost effective way of improving your skin health.
Pigmentation of the face: This is commonly as a result of radiation from the sun causing unsightly irregular pigmented patches. There are just a few key topical medicaments that have robust medical evidence that they reduce pigmentation. The plasma machine (particularly useful for 'stuck on' lesions), medical grade peels and specific skin care can help, as can wearing sun cream (SPF) all year round.
Active acne: Your GP can give you very effective prescription only treatments for this skin condition. I offer extra help with skin peels and medical grade creams to supplement your GP's treatment.
Acne scarring: I use a mixture of HA fillers, bio-stimulators, peels, microneedling and medical grade creams to reduce the appearance of these scars.
Acne Rosacea: This is characterized by redness, flushing and spots on the nose and cheeks. Your GP can give you very effective prescription only treatments for this skin condition. I offer extra help with skin peels and medical grade creams to supplement your GP's treatment.
Saggy upper and lower eyelids: I use the plasma machine to tighten the skin. Toxin, HA filler and bio-stimulators can be used in strategic areas to correct this sagging.
Marked lines of the forehead, frown area (an angry resting frown) and/or crows-feet: The gold standard here is the use of toxin. This is a very popular choice for men and for good reason. The placement of toxin in men is VERY different to that of women. Men look great with a strong, almost flattened, horizontal brow line whereas women benefit from an arched feminine brow. HA filler and bio-stimulators can also be used in these areas.
Hollowness in the temples: Hollowness in the temples can give the appearance of an aged and gaunt face. Young adults have fullness in the temples and a strong forehead adds to a masculine appearance. HA fillers or bio-stimulators can plump out the temples.
Hollowness under the eyes (tear trough): HA filler under the eyes can reduce dark circles and make the face look less tired. HA filler under the eyes can reduce the dark circles that men can't cover with makeup. However this is a technically challenging treatment. I may advise filler in the cheek area to 'prop up' the structures around the eyes before treating the tear trough itself. Sometimes baggy eyes can be disguised with HA filler but sometimes not. I will tell you honestly if you should consider surgery as an option. I can recommend a local colleague who is an expert in surgical blepharoplasties.
A crooked nose: Filler or bio-stimulators can make the nose appear straighter and less hooked. Handsome men often have a 'strong and defined' nose that creates a masculine profile. However, this is a technically treacherous area to inject, choose your practitioner wisely.
Hollow and sunken cheeks: This can be treated with HA fillers or bio-stimulators. However in contrast to women, men often need strong angular cheekbones.
Etched naso-labial folds (the lines from the nose to corner of the mouth): These are often the result of lost cheek volume (due to depleted bone and fat with ageing) causing the face to sag. The upper face often needs attention as well as the folds themselves. HA fillers, bio-stimulators and threads are used to help with these areas. Treatments here can really add youthful vigor to a masculine face.
Etched marionette lines (the lines from the corners of lips to the jowls): If these are deep they can create the appearance of a permanent frown. See the description above as the causes and treatment options are similar to those used for naso-labial folds. Sometimes toxin can also help to lift a down turned mouth.
Jowling and sagging under the chin: Please see the description of naso-labial and marionette lines, as jowls and sagging appear for the same reasons. A more chiseled jawline with a strong square chin is very desirable in a man's face and this can be achieved with HA fillers, bio-stimulators, threads and Aqualyx (double chin reduction).
Dehydrated and thin lips: A special type of HA filler in this area gives a mobile, refreshed, natural looking lip. Men tend to have less volume and less definition in their lips and so need to be treated differently to women. I am an expert at avoiding the 'done', 'duck' and unnatural appearance.
Perioral lines (the vertical lines above and through the top lip): This is less of a problem for men and is treated with HA filler but in a VERY different manner to women's lip lines.
Dimpled, weak, creased or prominent chin: A dimpled, weak and creased chin is often as a result of lost jawbone structure with age. The chin muscle then becomes over active. This results in a chin that gets shorter and smaller and so it looks 'weak' compared to the rest of the face. Toxin, HA filler and bio-stimulators can address this to build the chin back up. A central dimple can also be minimised in this manner.
If a prominent chin bothers you, this can be addressed by targeting other areas, which will rebalance the face.
Squared angle of the jaw: This is often a desirable characteristic for men and in my opinion often best left, but by adding HA filler or bio-stimulators elsewhere in the face a prominent jaw can be visually minimized.
Vertical neck bands: These are the bands that are obvious when you do sit ups but can be there even at rest. Toxin can work well however care must be taken to not over feminize the neck. A stout broad neck is often desirable in a man.
Horizontal neck lines: Profhilo and Ellansé are bio-stimulators that work very well here if the neck looks very dehydrated and loose.
Aged hands: Are you bothered by the appearance of pigmented, veiny and boney looking hands? I find athletic gentleman lose weight from their hands. I use bio-stimulators as they give fantastic youthful results and last a long time. Peels and medical skin care can help with the pigmentation.
Excessive sweating: This can afflict the scalp, forehead, brow, top lip, under arms and palms of the hands. The most common area that bothers people is armpit sweating. Toxin here can reduce sweat production for 6-12 months. This treatment can be available on the NHS through a GP referral if it is disabling. Unfortunately treatment on the NHS often involves long waits and there are strict criteria for who is eligible. If it is clinically appropriate a private doctor may agree to treating you privately.
The "Dr K's Lift"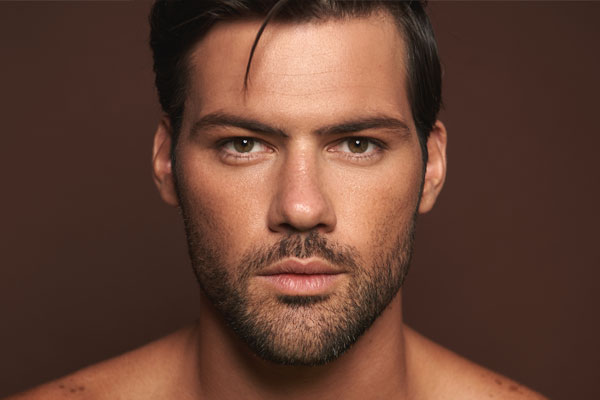 This is a unique service tailored to address your particular concerns in a cost effective way. The chosen treatments are usually given in 1, 2 or 3 sessions over 6-12 weeks.
These packages are often termed The Liquid Facelift. They cost less than a surgical face-lift, have minimal, if any, bruising or swelling and have fewer medical risks. It adds a masculine lift, hydration and a fresh vigour to the face whereas a surgical face-lift simply pulls back floppy skin (with the telltale stitches, bruising and swelling). Non-surgical treatments are the reason why facelifts are becoming outdated. The injection techniques are completely different for male and female patients but the same cost savings are available to men as well.
Level 1 lift
This package involves a myriad of treatments that give you great value for money. It is the entry level lift and probably most suitable for the 30-40 year old gentleman. We could use the treatments to strengthen the brow and jaw. However we will jointly decide what is most likely to give you the most 'bang for buck'.
Level 2 lift
This lift includes a few more syringes of filler than Level 1, so one can create more definition to the face. It is probably more suitable for the 40-50 year old gentleman. As well as a stronger brow, one could also achieve a stronger jawline and chin. Once again though, it will be tailored to your specific needs.
Level 3 lift
This is a fantastic package that tackles all the troubles of the aged male face. Having this package really allows a stronger well defined face to emerge. Probably more suited the 50-60 year old group. You may require this package if you have had a lot of sun damage, been a heavy smoker, have lost a lot of weight or have had a period of illness. All these take an added toll to your face.
Photo gallery
The results below were obtained in my clinic but your results may vary, as facial anatomy varies between patients.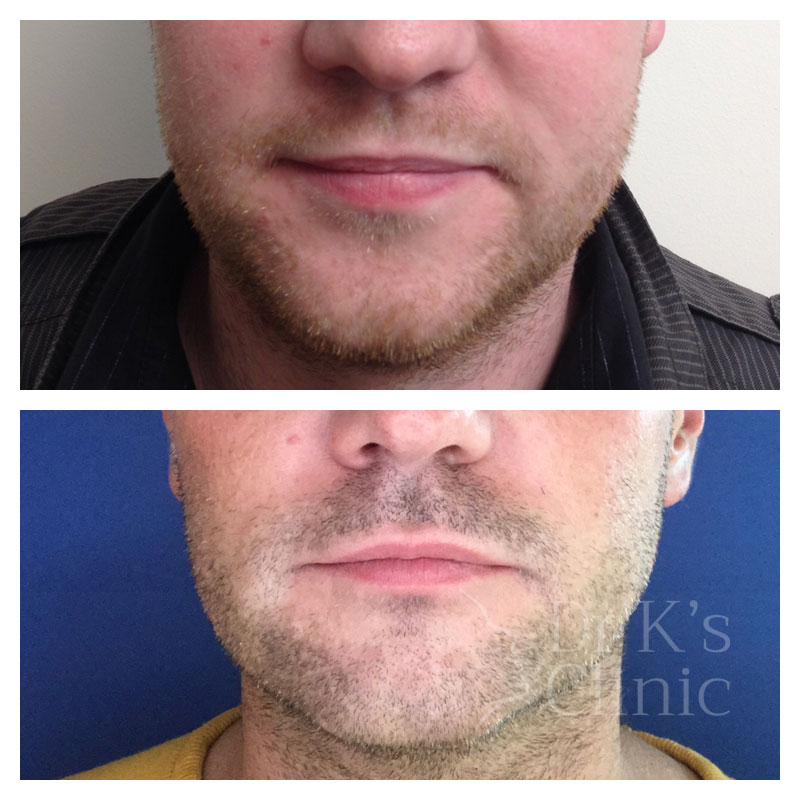 What my patients say
I have been visiting Dr Kenningham for over 4 years and would not go anywhere else for the type of treatments I have done (botox, dermal fillers and a course of Aqualyx). Dr Kenningham is professional, friendly and provides me with recommendations for what type of treatments would 'suit my face' without giving it a 'plastic look' and I could not be happier!
Gareth Hellen
I go to Dr K for treatments. I didn't want to look 'over done' and false, but fresher, and I believe Dr K achieves this. Dr K is highly professional and is a wealth of information about the latest treatments. I have had Botox for a few years and it gives me such a boost to my confidence - I wouldn't trust anyone else with my face!
Anonymous
Do you want to achieve a natural and more
youthful appearance? Book a consultation
with Dr K in her award winning clinic
Contact me today