Medical Grade Peels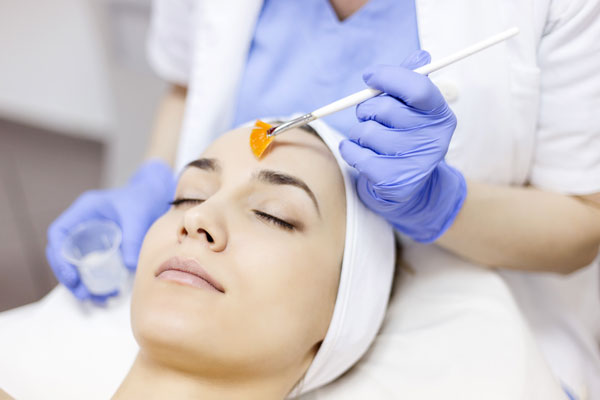 Treatment summary
Treatment time: First appointment is 45 mins. Thereafter it is 30 mins
Recovery time: 1-7 days depending on the strength of the peel
Results seen: Immediately and ongoing if a medical skin care range is adhered to
Duration of results: Depends on the depth of peel given
Possible side effects: Flaking, redness, over or under production of pigment of the skin
Prices
The cost will depend on the complexity of the treatment and the amount of raw product needed, so a quote will be given at the consultation.
Please see the Price List page for the most up to date pricing.
FAQ
Click a question below to expand
Medical grade peels can create tighter, smoother and brighter-looking skin after just 1 use. You will be advised on the use of medical skin care creams to take home. Those stocked in the clinic have ingredients that create scientifically proven improvements to the skin and are licensed for medical practitioners only.
They are great at reducing fine lines, irregular pigment, age spots, sun damage, acne, oily skin and acne scarring. There are 3 types: Superficial peels cause the epidermis (the top layer of the skin) to slough off. Medium peels cause the epidermis and the top part of the dermis (a deeper skin layer) to slough off. Deep peels, as one would expect, reach near the bottom of the dermis. Deep peels are not provided in clinic as they often require sedation and close medical monitoring.
The face, neck, back, décolleté and the backs of hands can be treated.
On you first appointment you will be asked to fill in your medical record and have photographs taken. I then assess your skin health, discuss what I would recommend and the down time involved.
Only then will I do the practical procedure of applying the peel. All of this will take about 45 minutes on your first appointment. For repeat treatments it usually takes 30 minutes.
Immediately after the treatment, but if a course is given then the effects are more dramatic and longer lasting. As one would guess 1 superficial peel is not as effective as 1 medium depth peel.
However superficial peels have less down time with peeling skin than the medium depth ones. Further benefits are seen if the home skin care products are used at home.
No, although you may feel heat on the application of the stronger peels.
This depends on the depth of peel you have. Patients who have superficial peels tend to recover straight away and indeed some have a superficial peel the day before a big social event as the skin looks radiant. Patients often return to work immediately after.
Medium depth peels tend to make the skin feel tight and usually the peeling starts the next day. This may continue for 5-7 days.
After a course of 4-6 treatments of superficial peels the effects tend to last around 6-12 months.
A course of 2 medium peels tend to last 6-12 months. The home use medical creams will keep the skin in great condition.
Yes there are a few, which is why it is for medical professionals only. Complications like skin bleaching or hyperpigmentation may occur. There are also constituents in some peels that are contraindicated in certain patients.
Medium peels may provoke a bad case of cold sores however a prescription of anti- virals may be needed if you are deemed at risk of a flare up. One may expect to have more flushing or reddened skin after medium peels for a month or two. Peels should not be given you have a facial infection.
You should have this discussion with your aesthetic doctor as there are numerous evidence based products that are very useful for skin concerns.
Alpha hydroxyl-acids and beta hydroxyl-acids are commonly used constituents in medical grade peels but not the only ones. It depends on what the doctor deems is the most appropriate for your skin type and skin concerns. Alpha hydroxyl-acids are water soluable and are very good at disrupting the skin cell to skin cell bonds and so are good at allowing the top layers of the skin to slough off.
Examples are lactic acid (from milk) and glycolic acid (from sugar). Beta hydroxyl-acids are fat soluable and therefor are able to get into the oil laden pores and 'dry out' oily skin. Tricloracetic acid is very good at getting beyond the epidermis and is available in a variety of strengths. Depending on your skin needs, a peel with arbutin or kojic acid may be used to lighten the skin. There are a variety of peels produced by manufacturers that have combination ingredients to improve efficacy. These are not expensive.
Please ask for more information, as one needs to take precautions before a skin peel.
Avoid the use of exfoliators, retinoids (like Retin A, Differin, Epiduo), alpha (like glycolic & lactic) and beta (like salicylic) hydroxyl-acids, excessive sun exposure, electrolysis, depilatory creams, waxing, and laser hair removal 5 to 7 days prior to the peel.
Use SPF 30+ for at least 14 days after the peel. Makeup can be worn straight away. It is imperative that you apply SPF 30 + no matter what time of year it is. This is because an outer layer of skin has been chemically removed and so the deeper layers of skin will be more prone to radiation damage and disordered pigmentation. It is important to treat your skin gently in the weeks that follow.
There are certain topical creams that should be avoided and carefully re introduced depending on the depth of the peel. For example please avoid retinols and hydroxyacids for 48 hours after. Please do not pick off peeling skin as this may tear deeper layers and result in uneven healing. Medium peels may cause the skin to flake for 5-7 days.
In my clinic, as part of the peel deal I issue some SPF among other useful topicals.
Precautions must be taken in those who are allergic to aspirin and those prone to pigmentation after skin injury (tends to be darker skin types).
Photo gallery
The results below were obtained in my clinic but your results may vary, as facial anatomy varies between patients.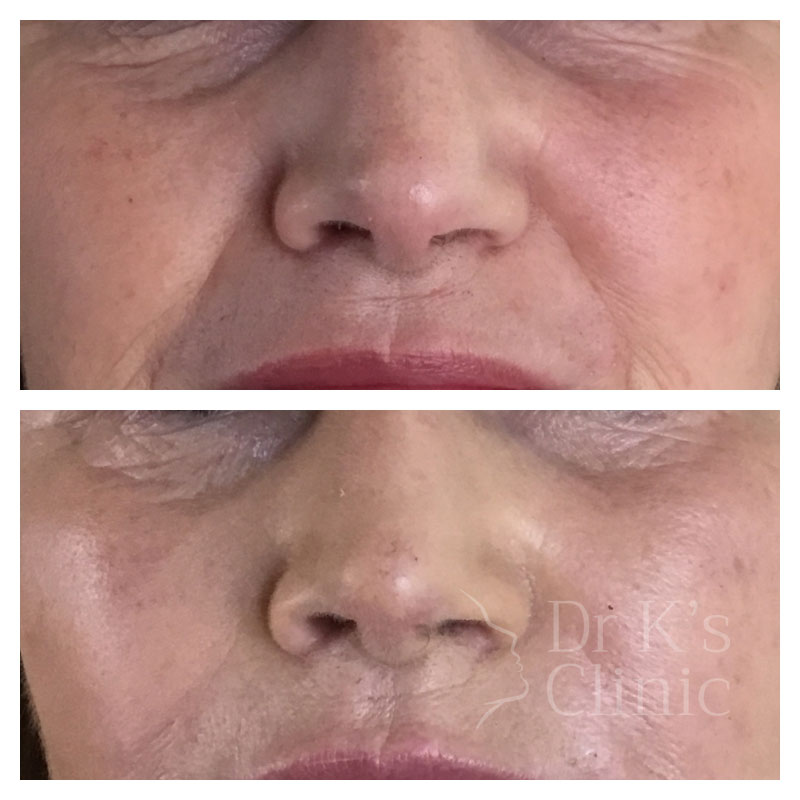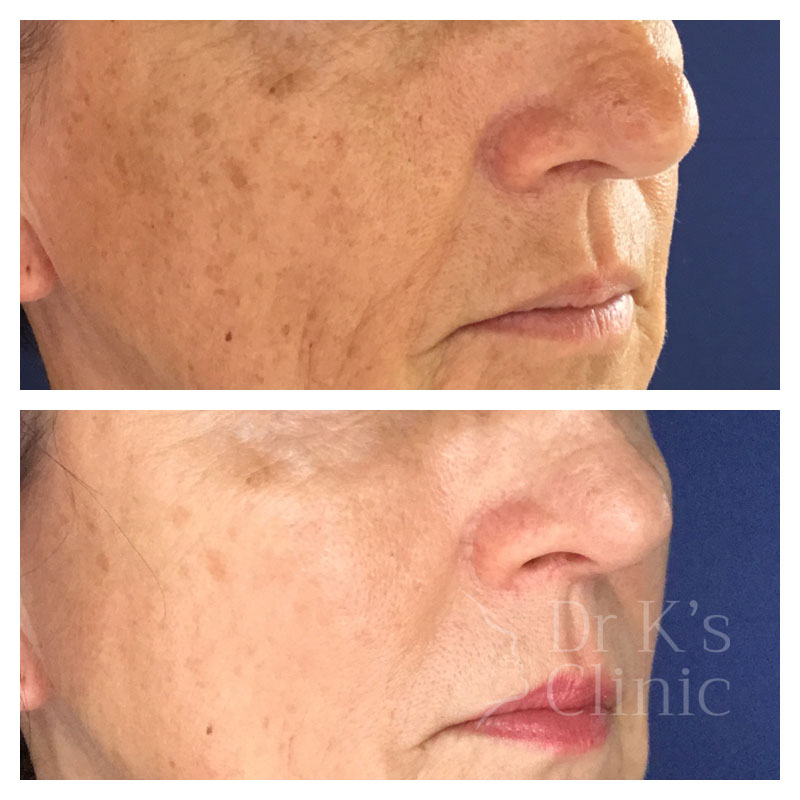 Testimonials
I visited Dr Kenningham as I wanted to see if she could treat my skin with something other than injections. I have peels and skin care from her clinic. People comment on how fresh and glowing I look and it's true. I'm happy with my results and have recommended her to friends.
Ann, Wrexham
Dr K's Clinic

is rated 5.0 stars from over

20

reviews on Google
Do you want to achieve a natural and more
youthful appearance? Book a consultation
with Dr K in her award winning clinic
Contact me today