Blog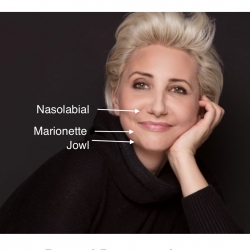 23/09/20
Here's the link to my YouTube video that explains why we get them and what I use to treat them.I use a mixture of HA fillers, bio-stimulator fillers and threads to treat the nasolabial...
Read more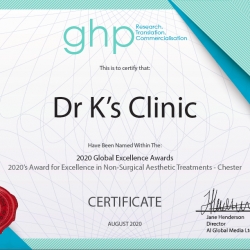 19/08/20
I have brilliant news! I was nominated for and won the 2020 award for excellence in Non-Surgical Aesthetic Treatments- Chester! Don't be skeptical, this isn't a "Doctor of the year...
Read more
06/08/20
Here's a link to a youtube video where I explain my professional opinion on what the best ingredients are for improving your skin! Click here to view a video on skincare I'm afraid I am...
Read more
21/07/20
Medical Grade Peels Want to see a 14 minute video of me discussing medical peels? Click here: https://youtu.be/ee-AJhbrV4E Scary right? I'll bet you instantly think of Samantha from...
Read more
16/06/20
According to the British College of Aesthetic Medicine and my insurance provider, medical treatments can be restarted from June as long as government and public health guidelines in infection control...
Read more
06/06/20
Re-opening of Dr K's Clinic.Based on all the information I have from government, the general medical profession and from Aesthetic Doctor professional bodies, I shall be opening from the 1st of...
Read more
Do you want to achieve a natural and more
youthful appearance? Book a consultation
with Dr K in her award winning clinic
Contact me today