Wrinkle Treatment (Botulinum Toxin)
Common brands: Botox, Azzalure, Bocouture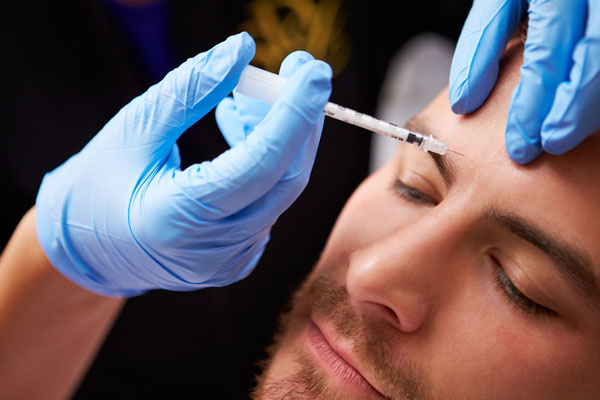 Treatment summary
Treatment time: 20 mins
Recovery time: Immediate
Results seen: 14 days
Duration of results: 12 weeks (on average)
Possible side effects: Bruising, headache, eyebrow droop
Prices
The cost will depend on the complexity of the treatment and the amount of raw product needed, so a quote will be given at the consultation. Injectable services are only available to patients over 18 years of age and only after a detailed medical consultation.
Please see the Price List page for the most up to date pricing.
Each of the following is considered as 1 area:
Frown lines
Forehead lines
Crows feet
More advanced areas are listed below:
Softening of jaw muscles/ jawline slimming
Nefititi neck lift
Under arm sweating
A lip flip
Smokers lip lines
Gummy smile
Nose lift
Down turned mouth
Dimpled chin
What areas can be treated?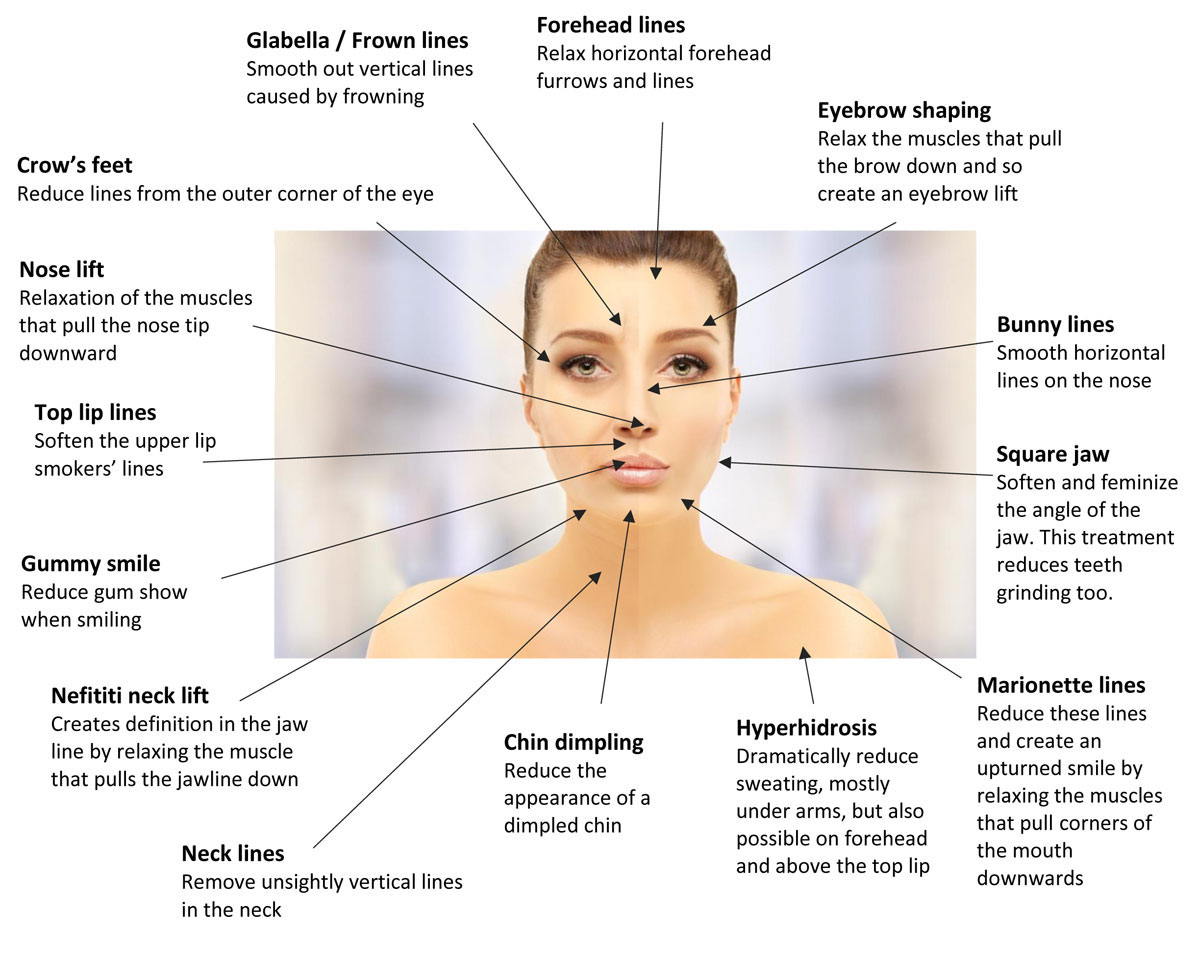 FAQ
Click a question below to expand
This is also known by the following; Botox, toxin, Azzalure, Bocouture, wrinkle treatments and wrinkle relaxing products. These are prescription only medications so you need a consultation with a medical person who will advise whether treatment is needed and whether it is appropriate for you.
When it is injected into a muscle it cause the muscle to relax and stop contracting. This means the skin overlaying that muscle isn't pushed into wrinkles and so the wrinkles soften.
2 weeks after injections.
Not really, the needles used are extremely fine needles so the procedure is remarkably well tolerated. However, if you think you are apprehensive about this, numbing creams like EMLA cream 5%, are available to purchase from most chemists if desired.
Around 3 months on average but people vary. It depends on the site injected, the strength of the muscle in that area and the lifestyle of the patient. For people who smoke, exercise heavily or sunbathe excessively, it may not last this long.
No, only if you want to maintain your look.
In trained and skilled hands of those who know anatomy, it is a very safe treatment. Beware of fake toxin imported into the UK as it unlicensed and not as rigorously inspected as legitimate sources. It is usually sold very cheaply online.
There are no real precautions. However if you want to minimize the chance of bruising you could stop alcohol, vitamin E supplements, aspirin (if it is safe to do) and other anti inflammatories (eg: ibuprofen, naproxen, diclofenac) 3 days before the procedure.
You will be given an after care leaflet. Most people return to work straight afterwards. Please avoid massaging and extremes of temperature shortly after the procedure.
It is not for patients under 18 years of age of for ladies who are pregnant or breast-feeding. Those with active infections or nerve disorders eg:Eaton Lambert syndrome or Myasthenia Gravis should not be injected with it.
Photo gallery
The results below were obtained in my clinic but your results may vary, as facial anatomy varies between patients.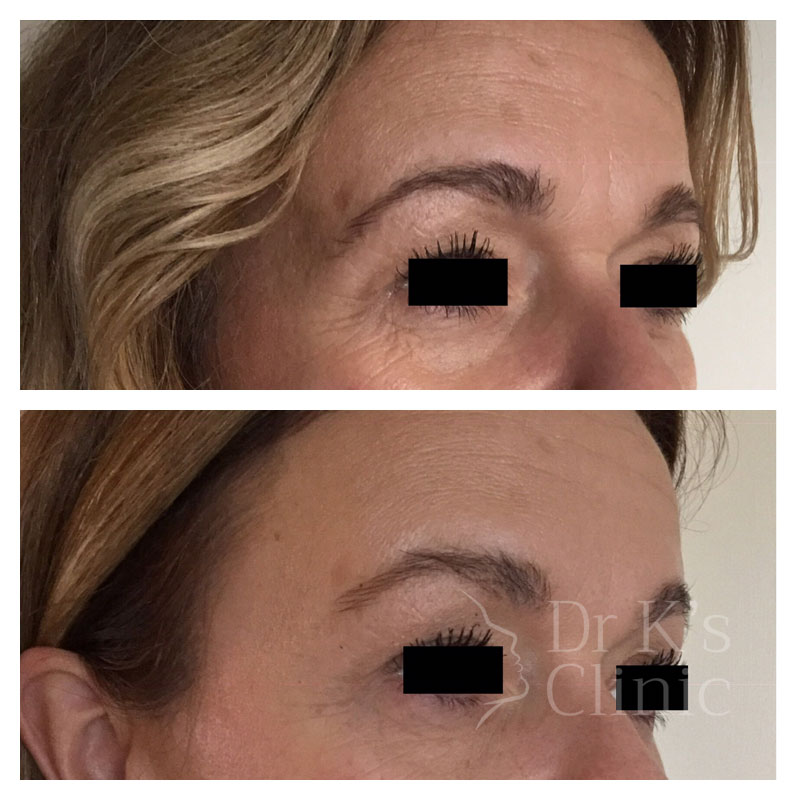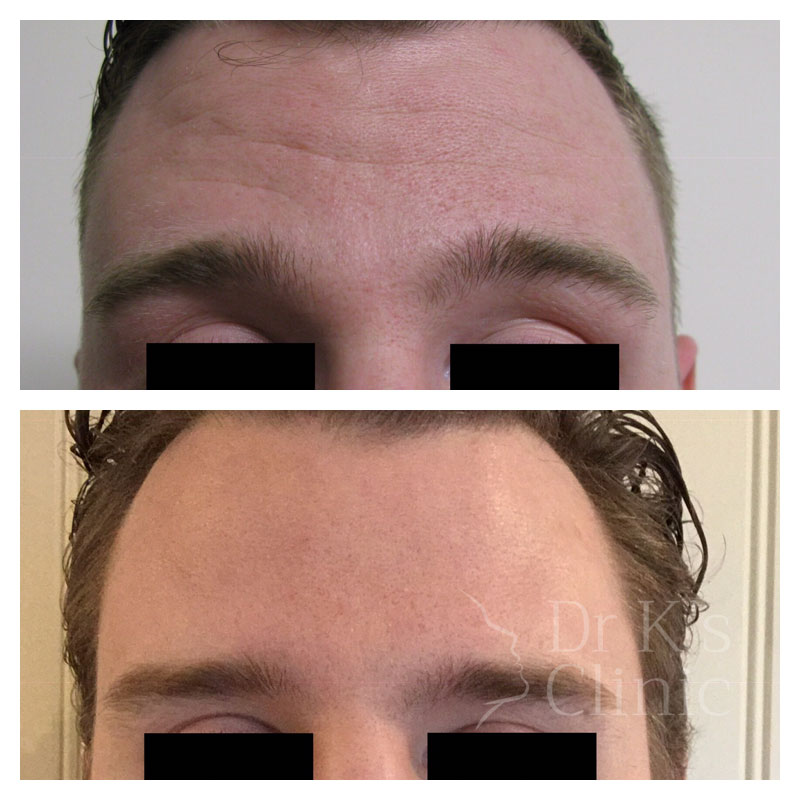 Testimonials
Earlier this year I switched from my previous clinic to Dr K as I was seeing diminishing results from Botox treatments. Dr K has been fantastic; she is friendly, professional and incredibly knowledgeable/experienced in her field. I have not been disappointed as Dr K has given me exactly the results and look that I was after. I look, and feel, younger and more confident without looking like I've had treatment. I would definitely recommend.
Tokyo Fist
I have been receiving Botox injections from Dr K for a few years now and am always so happy with my results. I was quite specific when I first met her that I wanted a natural look that just made me look good for my age. And that is exactly what I got. A wonderfully professional and friendly service with outstanding results. I would not go anywhere else and highly recommend Dr K.
Sharon Burt
Dr K's Clinic

is rated 5.0 stars from over

20

reviews on Google
Do you want to achieve a natural and more
youthful appearance? Book a consultation
with Dr K in her award winning clinic
Contact me today