Thread Lift
Treatment summary
Treatment time: 60-90 mins
Recovery time: Immediate
Results seen: Immediate and continued improvement for 12 weeks on average. Repeat treatment is usually needed at 3 months
Duration of results: 12-18 months
Possible side effects: Bruising, swelling, infection
Prices
The cost will depend on the complexity of the treatment and the amount of raw product needed, so a quote will be given at the consultation. Injectable services are only available to patients over 18 years of age and only after a detailed medical consultation.
Please see the Price List page for the most up to date pricing.
What areas can be treated?
The following areas can be treated: naso-labials, marionettes, jowls and neck.
FAQ
Click a question below to expand
PDO threads are "skin stitches" that are inserted into the deep structures of the face and create a lifting and repositioning effect of your face. Cheeks, naso-labial lines, marionette lines, jaw line and neck can be treated.
Once the threads dissolve, your skin has increased its strength and so the skin stays lifted. I often combine these with HA fillers or bio-stimulators for the best results.
The lifting effects are seen straight away but the full effect of bio-stimulation of your collagen and elastin is seen about 3 months later.
It is remarkably comfortable as local anaesthetic is used throughout.
Twelve months on average.
Your stimulated collagen and elastin will be degraded naturally over time and you will return to how you looked before as the aging process continues.
This is why I would recommend you have top ups to maintain your fresh appearance.
This may look like an invasive procedure, but it is quite safe and comfortable.
As the blunt thin tube travels through the skin it may prang nerves in the skin, so this procedure can feel a bit achey for a few days. It can bruise but not as much as you would expect.
There are no real precautions. However if you want to minimize the chance of bruising you could stop alcohol, vitamin E supplements, aspirin (if it is safe to do) and other anti inflammatories (eg: ibuprofen, naproxen, diclofenac) 3 days before the procedure.
Please postpone your appointment if you have an infection.
Yes there is. You will be given written information about this when you attend for a consultation.
Please refrain from makeup application for 12 hours. Avoid vigorous exercise and extremes of temperature for 3 days after your treatment. Bruising can last 5-10 days (depending on where has been injected), so do not have this done less than 2 weeks before a big event or a holiday away.
Recovery is generally quick, with most patients returning to work the next day.
It is not suitable for patients under 18 years of age or those ladies who are pregnant or breast-feeding. You will need a detailed consultation if you have permanent facial implants as sometimes PDO threads cannot be used on top of certain prosthetics.
Photo gallery
The results below were obtained in my clinic but your results may vary, as facial anatomy varies between patients.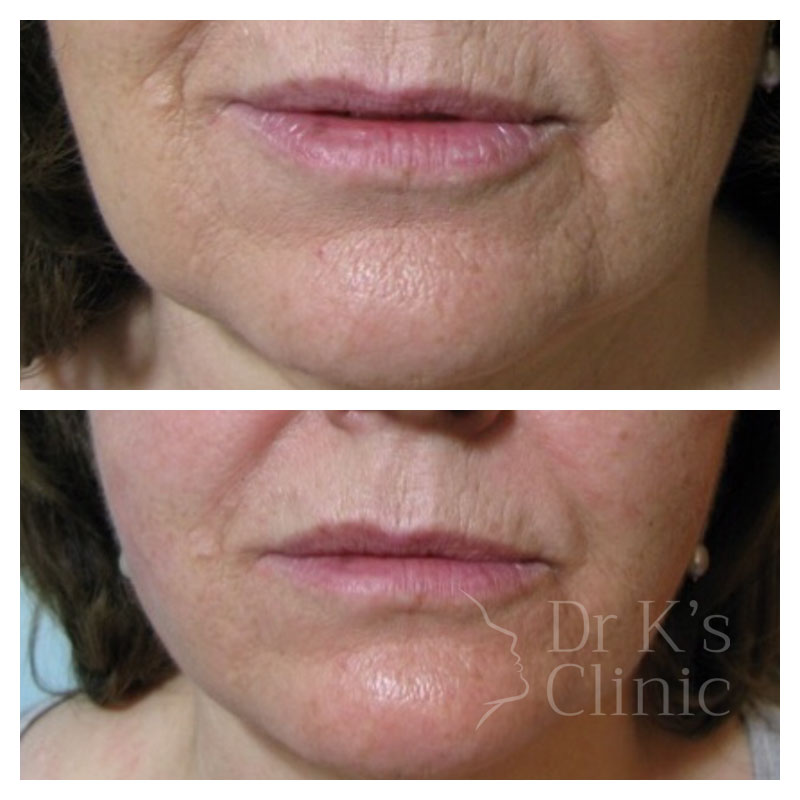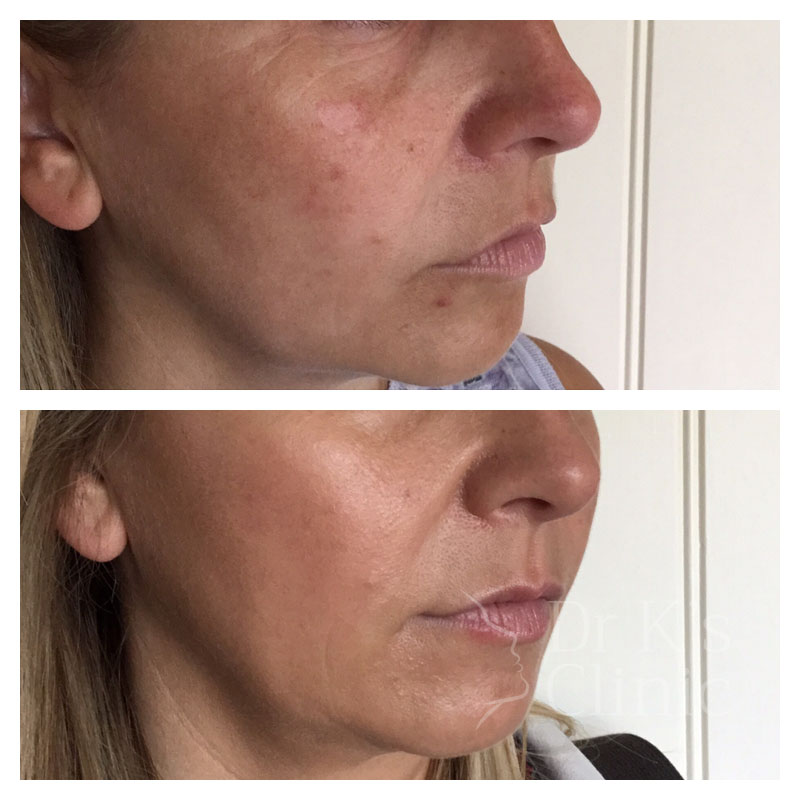 Testimonials
I'm a lady in my 50s and had issues with sagging jowls. Dr K recommended threads and Ellansé as a combination and this has really lifted and freshened my face. I was worried that the PDO thread procedure would be really painful but it wasn't, it just felt odd definitely not painful. I'm really pleased with results and would recommend Dr K's Clinic.
MM
Dr K's Clinic

is rated 5.0 stars from over

20

reviews on Google
Do you want to achieve a natural and more
youthful appearance? Book a consultation
with Dr K in her award winning clinic
Contact me today