Aqualyx (Double Chin Reduction)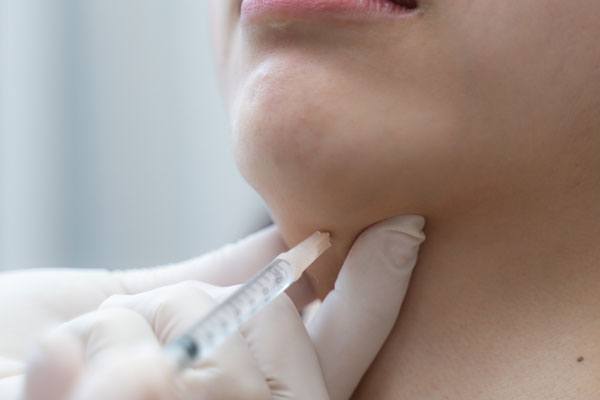 Treatment summary
Treatment time: 45 mins
Recovery time: 7-10 days
Results seen: On average 4-6 weeks later
Duration of results: Permanent unless there is further weight gain
Possible side effects: Bruising, swelling, discomfort for a few days
Prices
The cost will depend on the complexity of the treatment and the amount of raw product needed, so a quote will be given at the consultation. Injectable services are only available to patients over 18 years of age and only after a detailed medical consultation. 1 to 4 treatments may be needed.
Please see the Price List page for the most up to date pricing.
FAQ
Click a question below to expand
Aqualyx is designed to mimic the natural fat dissolving components of your gall bladder.
It is a very safe product but you need a consultation with a medic to ensure it is suitable for you. Once it has dissolved your targeted fat cells it is naturally expelled by the body through the lymph glands.
In this clinic it is only used in the under chin area so it defines the jawline.
These are usually seen by 4-6 weeks after treatment.
Aqualyx is mixed with local anaesthetic solution so is usually very well tolerated.
The results are permanent but repeated treatments are often needed so it reaches its full effect.
A good diet and moderate exercise will help you maintain your results.
2-4 treatment sessions may be needed, depending on the degree of fatty tissue present.
There should be 3-4 weeks between treatments. If there is weight gain, then the neighbouring fat cells that weren't destroyed, may increase in size and create a full under chin area again.
This will probably cause bruising and swelling for 10-14 days, so it is best not to have this up to 4 weeks before an important social event.
There are no real precautions. However if you want to minimize the chance of bruising you could stop alcohol, vitamin E supplements, aspirin (if it is safe to do) and other anti inflammatories (eg: ibuprofen, naproxen, diclofenac) 3 days before the procedure.
Please postpone your appointment if you have an infection.
Drink plenty of water to help flush the old fat cells away.
Do not expose the skin to extremes of heat or cold and avoid intense physical activity for 5 days.
It is not suitable for patients under 18 years of age or those ladies who are pregnant or breast-feeding.
You will need a detailed consultation by a medic to assess whether you are suitable for treatment.
Photo gallery
The results below were obtained in my clinic but your results may vary, as facial anatomy varies between patients.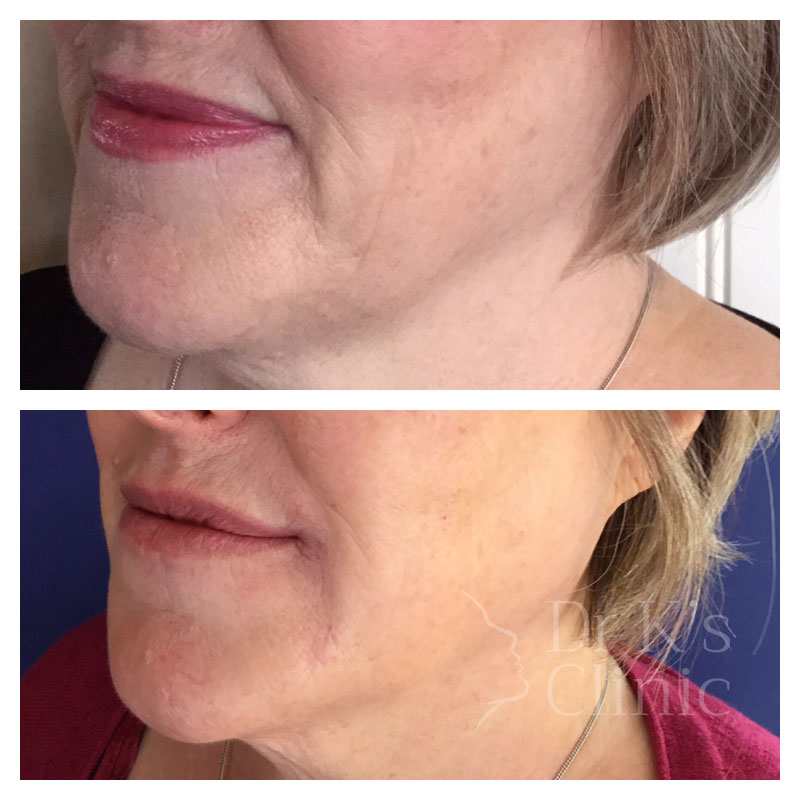 Testimonials
I'm a lady in my 60s and was bothered by my sagging under chin area. I had a great result from 2 sessions of Aqualyx under my chin. It was a bit bruised a swollen for a few days but the results are worth it! I just love my jawline now, so different from before.
Anonymous
I had jawline Botox and 3 sessions of Aqualyx for my sagging neck that has annoyed me for years. The treatments were actually OK and just slightly stingy. I was tender and bruised for a week or so, as Maeve explained I would be. People have commented on how well I look so I'm very pleased with my results.
Mrs K M, Wrexham
Dr K's Clinic

is rated 5.0 stars from over

20

reviews on Google
Do you want to achieve a natural and more
youthful appearance? Book a consultation
with Dr K in her award winning clinic
Contact me today