Botox treatment for frown lines
23/05/21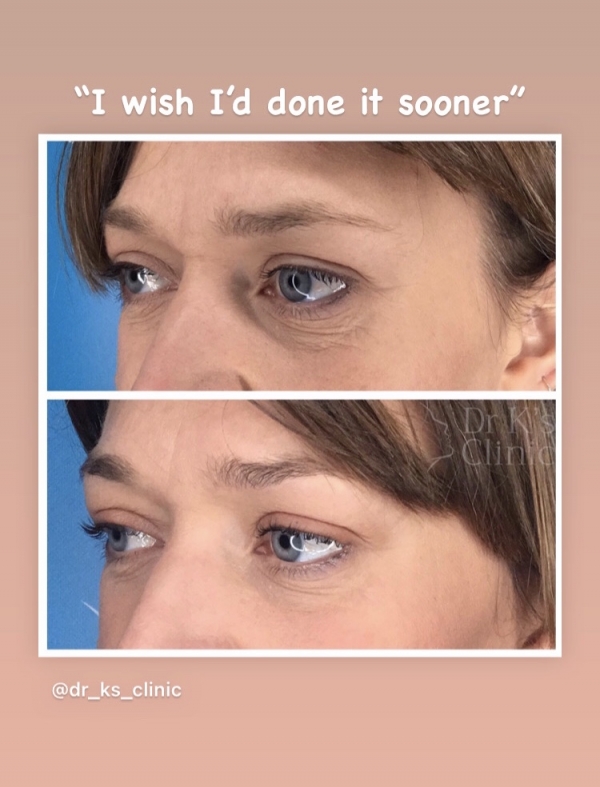 My patient wrote "I'm a bit nervous about having injections but they were painless and took a few seconds. Dr K took the time to answer any questions and this, along with her experience and knowledge, helped me feel completely at ease. I wish I'd done it sooner"
She told me she absolutely loves her results! And why wouldn't she? She looks rested and almost serene. Best of all, she looks natural.
Botulinum toxin (Botox) injections, in the right hands, can look very natural and flattering but just like in any other artistic field, it depends on who you go to. Unfortunately I see so many people who have been put off this treatment as they had a terrible results with other injectors in the past. It's easy for novice injectors to drop someone's brows or create asymmetry. This puts people off trying again as they think this is what it does.
It's a bit like having one bad haircut and saying that you don't want another as it went badly before. That just doesn't make sense. Even though my treatment toolbox is overflowing with options from Botox to fillers, Thread Lifts to double chin reductions, the treatment of frown lines with Botulinum Toxin (Botox, Azzalure, Bocouture products) is still my favourite (if you are medically appropriate for it). It refreshes and brightens the eye area and reduces that worried look. And that's why patients love it.
Stop waiting around. Book yourself in for a no pressure consultation. Maybe one day you will write "I wish I'd done it sooner"? ????
Do you want to achieve a natural and more
youthful appearance? Book a consultation
with Dr K in her award winning clinic
Contact me today