Creating balance to a beautiful face
09/03/21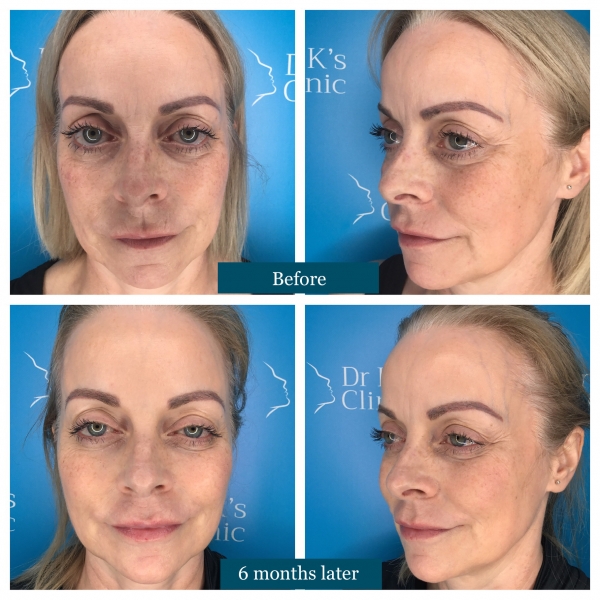 This lovely lady "Mrs H" asked for my help.
She felt her skin was ageing and that somehow her eyes were too big for her face. She wanted to improve things but wasn't sure what to ask for.
Her job involves the care of older patients after often emotionally devastating surgery. She was clear she didn't an unnatural or "done" appearance to distract from such delicate conversations and wanted to retain facial movement to show empathy in her professional setting. She had her lips done several years ago but felt things weren't quite right.
We agreed her treatment plan and part of this included removing her old lip filler that had spread towards her nose giving her a top heavy projection of her delicate lip.
Over the 6 months she had at-home skincare, a smattering of strategic botulinum toxin (Botox), 4mls of Ellansé filler (a biostimulator that will last at least 18 months) and 3 mls of soft and mobile HA fillers to her lips and mouth area. Overall she had a total of 1 1/2 teaspoons of dermal filler over 2 sittings.
These photos are her before and 6 months later.
She will be able to maintain her results with her at-home skincare creams, 4 monthly "baby Botox" and possibly 1 syringe of HA filler of her lips and surrounding area every 6-9 months. She may like a syringe of Ellansé at 9-12 months strategically placed to replace her natural volume loss. The framework of her face will change with the ageing process so her treatment plan will be adjusted to accommodate for this. Ellansé is one of my favourite treatments as it stimulates your body to produce its own soft flexible type 1 collagen that dominates in youthful skin. It gives a really natural looking end result. Non-surgical and surgical facelifts are never a permanent solution, ageing continues to march on and alter our appearance.
Everyone loses volume off their face and at the age of 45 most people need a teaspoon of volume to replace the ageing effects of lost bone and soft tissues. Slimmer and fuller framed ladies usually need more to create any impact. I find that my patients often look younger now than they did when they had their first treatment with me even 10 years ago. There is no compulsion to continue with aesthetic treatments, if there are no maintenance treatments you have simply pressed pause and slowed down the ageing process. However if you have invested in your skin health and appearance to the point of improving your well being, most patients want to keep to a cost effective maintenance program and reap the rewards of looking fresh and natural for their age.
If this is the sort of soft natural results you are after? I offer all manner of treatments including: dermal fillers, natural lip fillers, wrinkle treatments, Aqualyx, thread lifts, easy to understand results driven packages and more. Come and visit me in my private, relaxing and Covid secure clinic, when restrictions allow. I'm situated in the beautiful Welsh countryside between Chester and Wrexham. Visit my website contact me page to book in. I have a waiting list. Click here to book.
Do you want to achieve a natural and more
youthful appearance? Book a consultation
with Dr K in her award winning clinic
Contact me today