I am now an Award winning clinic in Chester!
19/08/20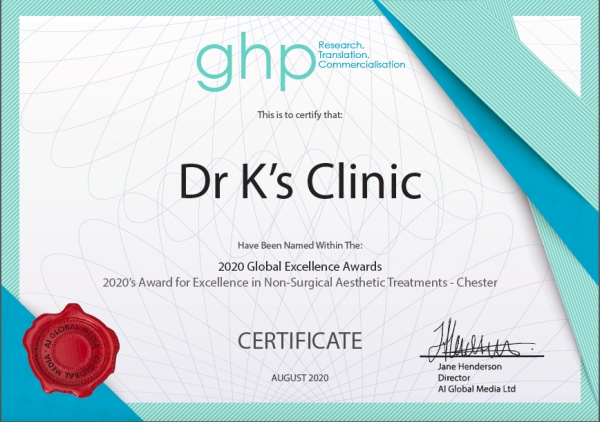 I have brilliant news! I was nominated for and won the 2020 award for excellence in Non-Surgical Aesthetic Treatments- Chester!
Don't be skeptical, this isn't a "Doctor of the year award" and the like, which are often bought titles or titles made up by friends so they are easily won!! Honestly, there are private practitioners who do this!
This title comes from Global Health and Pharma magazine's Global Excellence awards. Within this group there is a dedicated, academic research team who gather information about Non- Surgical Treatments being performed my area and in other counties in the UK. They researched practitioners from publicly accessible sources like websites and social media. They looked for evidence of innovation, excellence, achievements and advancements throughout the year. They tell me they looked at my medical accolades, my patient reviews, my presence on aesthetic advice forums, like Real Self, and my use of blogs on my website and YouTube. They felt I fulfilled their long list of stipulations for an excellence award.
I have always strived to be an excellent doctor who provides evidence-based treatments that work for most skin and aging concerns. I have done this to the best of my ability, by keeping up to date with and sharing innovative aesthetic and dermatological advances with you, my patient. I'd like to thank all my loyal patients for your support and trust in me over the years. Your joy and wellbeing is what drives me. Non- Surgical Aesthetics was once a very enjoyable hobby in my spare time but I am so lucky to say it has now become my full time career. I'm so proud and thrilled that my passion for this emerging medical specialty has been recognized in this way, and I'm humbled by it.
A lot of my regulars have been to visit my new elegant and covid safe clinic set in the beautiful countryside between Chester and Wrexham. I promised you my loyalty by opening up to you, my loyal patients, first so now things are feeling less hectic I can now extend my invitations to new patients who are curious about non-surgical aesthetics. I have a really easy electronic booking system on the 'contact me' page of my website. Theres a lot of education there too if you aren't quite sure. So is now the time for you to embrace life and a new, more confident you? Come and meet me and let us see how I can help you.
Do you want to achieve a natural and more
youthful appearance? Book a consultation
with Dr K in her award winning clinic
Contact me today