Dermal Fillers
What are dermal fillers and how do they work?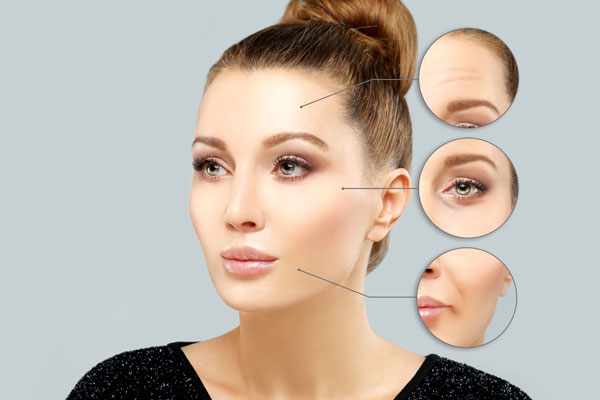 Fillers are often used to add volume and lift to areas of the face that have sunken with age or weight loss. Fillers such as Juvéderm®, Restylane and Belotero are made from hyaluronic acid (HA) which is a naturally occurring sugar in the human body that diminishes over time. When injected it can last up to 12 months. In contrast, permanent fillers such as silicone, have higher risks of problems and rejection reactions (like that seen in certain celebrities). Dr Kenningham does not use these because of the risks involved.
Dermal fillers do not have to be administered by a doctor by law in this country however fillers can aggravate certain medical conditions and can distort the face in untrained hands. It is safer to consult a trained clinician.
Is it painful?
Having a dermal filler injected is a little more uncomfortable than Botox. However most fillers have local anaesthetic incorporated which helps with the discomfort. Dr Kenningham offers some acupuncture to help with pain relief and relaxation.
How long does the cosmetic effect last?
Modern fillers such as HA fillers are non-permanent, lasting for around 12 months.
What should I do before the procedure?
To minimize the chance of bruising please stop alcohol, vitamin E supplements and if it is safe to do so aspirin and other anti inflammatories (eg: ibuprofen, naproxen, diclofenac) 3 days before the procedure.
Is there any aftercare advice?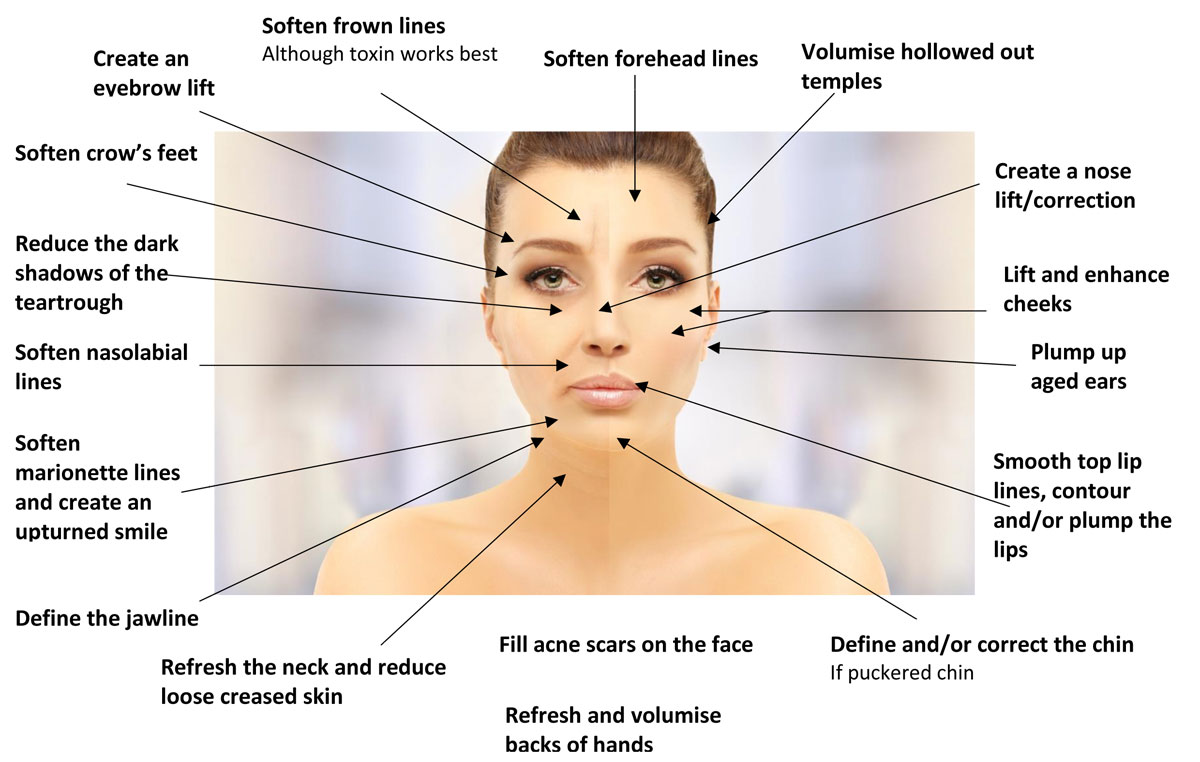 Avoid any excessive heat, cold, rubbing or exercise for 24 hours. Avoid makeup application for 12 hours to avoid skin infection. There may be temporary swelling, redness and itching for 24 hours. Bruising can last 3-7 days, so do not have this done less than 2 weeks before a big event. It is preferable to leave it to 4 weeks beforehand in case touch ups are needed.
How much is this service?
The prices quoted below represent a guide to the costs. However a full quote will be given at the consultation before any treatment begins.
The common injection sites are nasolabial lines (creases that exist between the nose and the corner of the mouth), deep frown lines between the eyebrows, deep wrinkles of the forehead, lines radiating from the mouth (perioral commissures) and lines from the mouth to the jaw (marionettes).
Per syringe £170 (Standard filler)
Nasolabial lines typically £340
Cheek enhancement from £370
Cheek lines from £170
Frown lines from £170
Lip definition from £200 (Often this is enough to enhance the lips)
Lip full augmentation from £400
Hand rejuvenation from £200
Decolletage rejuvenation from £200
Making a booking
How do I book an appointment?
Simply contact us. Appointments at our clinic for Wrexham and Chester patients are available on a Tuesday between 8.30am and 5.30pm. Alternative times may be possible.
How do I pay?
Cash, cheque and BACs are preferable. If cards are used a surcharge of 5% is added. Please allow 2 weeks for cheques to have cleared before procedure is performed.