Wrinkle Relaxing Products (BOTOX®, Vistabel, Bocouture, Xeomin, Azzalure, Dysport)
What are "BOTOX® type" treatments and how do they work?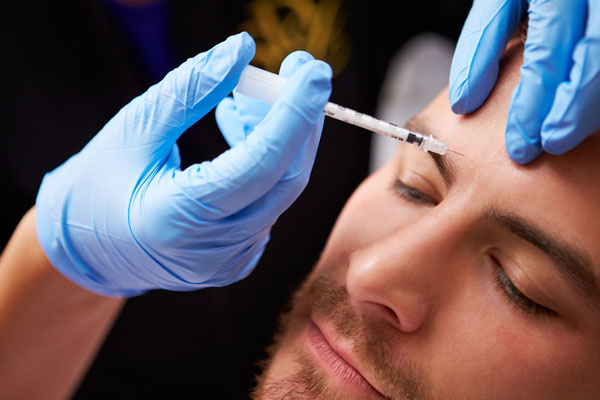 Botulinum toxin injected into the face acts to temporarily weaken the muscles that are used for facial expression. It takes approximately 2 weeks for the wrinkles soften and reduce.
This toxin is a prescription only medication and therefore should only be given by the person with appropriate knowledge and qualifications to administer it. In the trained and skilled hands of a specialised doctor it is generally a very safe product and has been in use since the 1980s. Please check the person who is administrating your wrinkle relaxant is a GMC certified Dr or that he/she is a trained and legally responsible clinician with adequate insurance. Otherwise if things go wrong it is unlikely they will have medically indemnity to cover the costs of the injury.
Is it painful to have these injections?
Not really. Most people liken it to a hair being plucked.
How long does the cosmetic effect last?
The effects last for an average of 3-6 months but people vary. It depends on site injected and initial strength of muscle in that area.
What should I do before the procedure?
To minimize the chance of bruising please stop alcohol, vitamin E supplements and if it is safe to do so aspirin and other anti inflammatories (eg: ibuprofen, naproxen, diclofenac) 3 days before the procedure.
Is there any aftercare advice?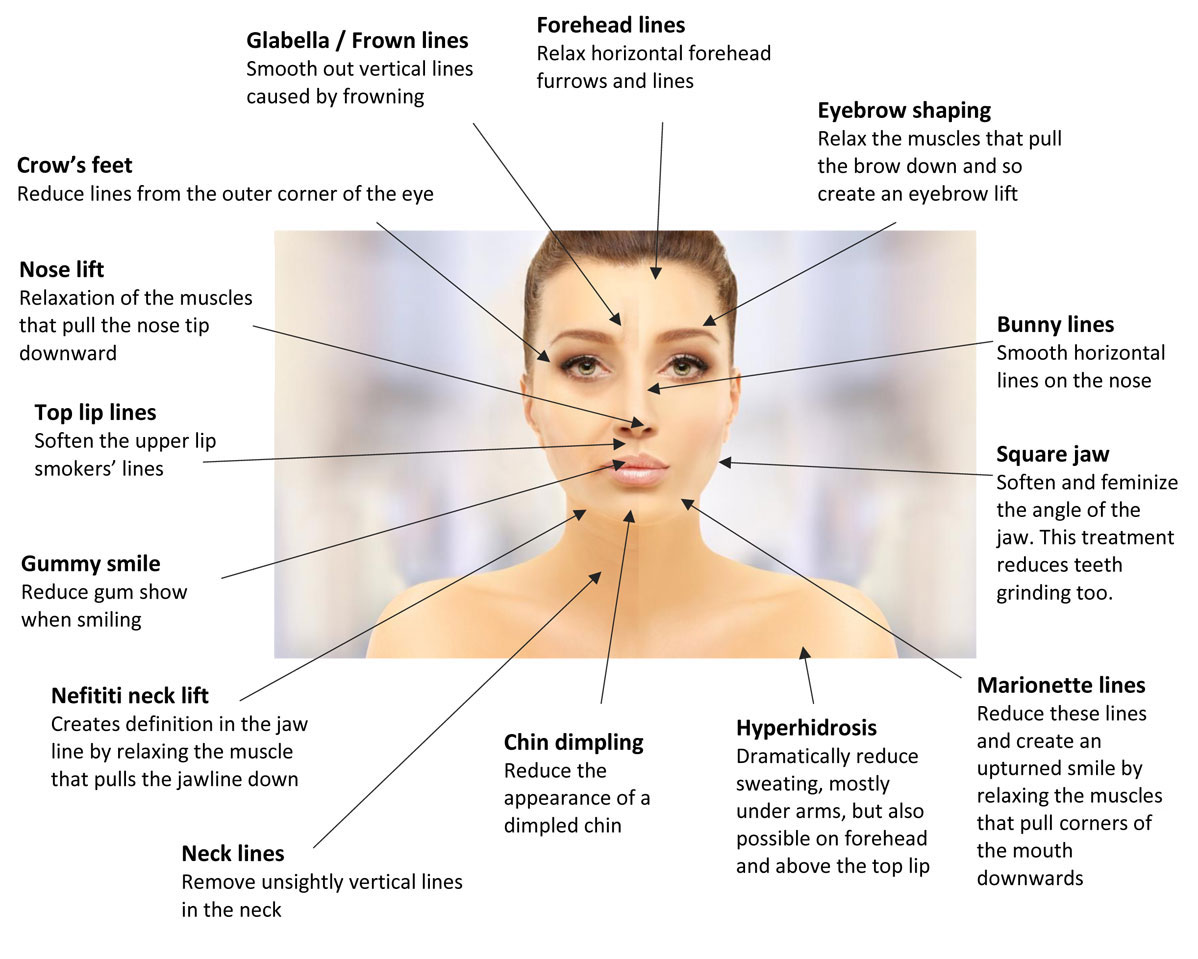 There may be temporary swelling, redness & a headache for 24 hours. Please avoid makeup application for 12 hours. Bruising can last a few days. Please avoid excessive rubbing, extremes of heat or facial treatments for 2 weeks.
Once I start wrinkle relaxing treatments do I have to continue?
Absolutely not. The raw product is expensive and people often have it 1 month before a big event. Others may have it 2 to 4 times in their first year as they like the effect. After this time it is often only requested by the client every 6 months as the muscles don't produce the same deep wrinkles as they did before.
How much is this service?
The prices quoted below represent a guide to the costs. However a full quote will be given at the consultation before any treatment begins.
Eyebrow lift £110
Bunny lines (nasal wrinkles) £110
Top lip smokers lines £110
Down turned corners of the mouth £110
Glabella (frown lines) £160
Crows feet and wrinkles under the eyes £160
Forehead £160
1 area £160
2 areas £210
3 areas £260
Underarm sweating £400 (A fantastic option for those who suffer excessive sweating under the arms. Multiple injections in armpits reduces and often stops sweating for 4-6 months. A procedure most favoured by gentlemen)
To achieve the rate reductions above all chosen procedures are to be done within 2 weeks.
Making a booking
How do I book an appointment?
Simply contact us. Appointments at our clinic for Wrexham and Chester patients are available on a Tuesday between 8.30am and 5.30pm. Alternative times may be possible.
How do I pay?
Cash, cheque and BACs are preferable. If cards are used a surcharge of 5% is added. Please allow 2 weeks for cheques to have cleared before procedure is performed.