Threadlifting is a skill worth perfecting again and again.
09/01/23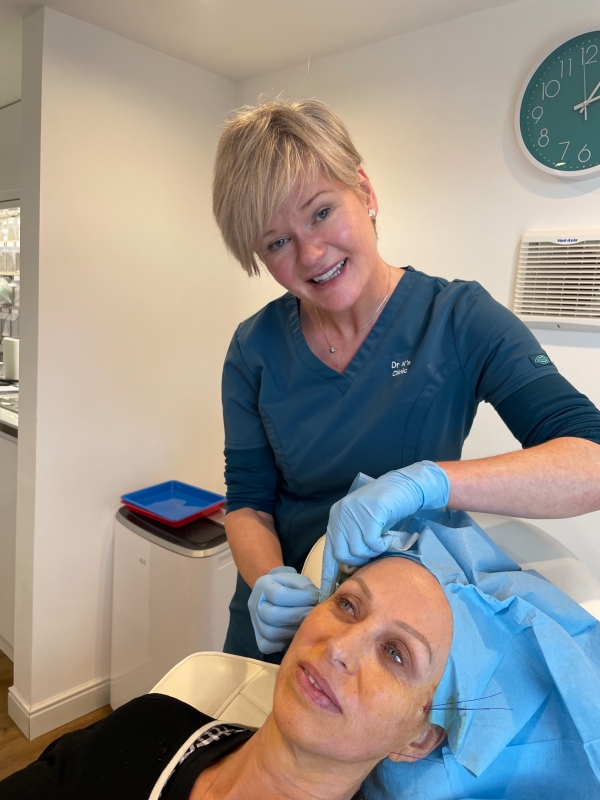 Threadlifts can be used for eyebrow lifts, cat eye, reduce deep nasal lines, minimise jowls, streamline jawlines, smooth neck and even straightening noses!
I believe regular peer training is crucial to maintaining a great aesthetic practice. Here I am doing some threadlift peer training in my clinic and as you can see my patient is very comfortable and smiling. Even though I've been performing threadlifts for about 6 years now I am always striving to perfect techniques and learn cutting edge new ones. I love doing threadlifts especially when jowls, jawlines and neck sagging are bothering patients. Threadlifts can shift tissues upwards and create a slimmer and more youthful jawline and neck. However, you will need a medical consultation to check if it's right for you.
As with every branch in medicine, new advances in products and techniques mean better outcomes for patients.
Happy patient=Happy doctor
My private clinic is 1/2 way between Chester and Wrexham in a countryside setting with lovely gardens. I've been a practising GP and dermatology doctor for over 20 years and been in Aesthetic medicine since 2012. I give honest trustworthy advice on what will deliver results. Click on booking link or call us on 07711190079
https://www.drkenningham.co.uk/contact-me/#appointments
Do you want to achieve a natural and more
youthful appearance? Book a consultation
with Dr K in her award winning clinic
Contact me today