Treatments for acne scars near Chester and Wrexham
04/03/23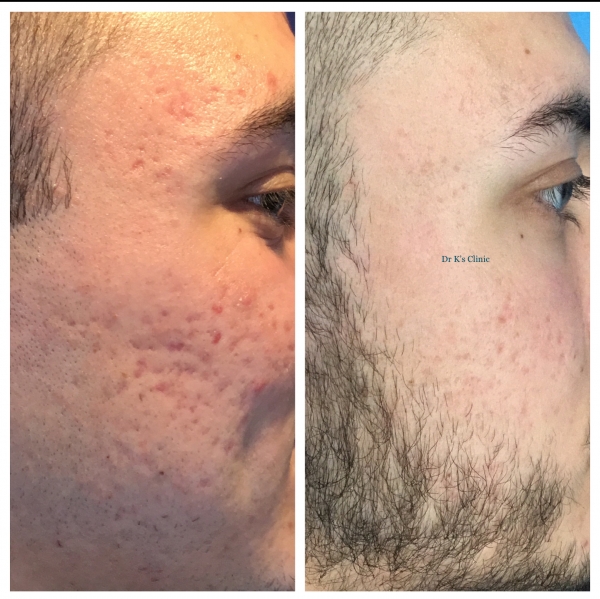 What does TCA CROSS treat?
This treatment is very useful for:
Acne scars: Ice pick, boxcar and rolling.
Chickenpox scars
Enlarged pores
What is it?
90% Trichloracetic acid. CROSS means the Chemical Reconstitution of Scars. TCA concentrations of 15, 20 to 35% are frequently used all over the face as a skin peel, this is a more concentrated form applied in very small drops in specific areas to create a localised deep peel reaction.
How does it work?
This has been used for decades by Dermatologists to successfully treat scarring but has also been found to help with pores. The skin cells lining the pores have a localised chemical
reaction which then stimulates the skin to heal from the bottom upwards. This results in a
tighter, smaller and shallower scar or pore.
What should I expect from the procedure?
The 90% TCA is applied and drips to the bottom and creates a localised chemical burn. There may be a very slight burning sensation and some skin frosting will appear.
What are the advantages of the 90% TCA specific application compared to other treatments for acne scarring or large pores?
- It is relatively inexpensive
- It is not uncomfortable
- It is a quick procedure
- It is very safe even in pigmented skins
- It has been used by Dermatologists for years because it is very effective for stubborn acne scarring.
- The results are permanent because you produce your own natural collagen
- If it doesn't work it is very safe to try other the modalities listed as alternatives.
What are the alternatives for acne scars or deep pores?
- Do nothing
- Consider prescription grade skin creams
- Micro-needling or RF microneedling
- Chemical resurfacing with generalised facial peels
- Mechanical subcision (cutting the tethered skin with a NOCOR instrument)
- Injected or micro-needled Stem Cell treatments (Bio-regenerative treatments) eg PRF, Plenhyage, Exosomes, to improve overall skin quality
- Injected dermal fillers like Hyaluronic acid or biostimulators like Ellansé, Sculptra, Radiesse etc
- Punch biopsies for a surgical removal of the scar.
- Laser resurfacing
How do I prepare for a TCA CROSS treatment?
Keep out of the sun 2 weeks before a treatment. It can be used in darker skin types but you will be advised about this.
How many sessions do I need?
This varies between 1-6 sessions. It depends on the depth of the scars, the number of them and your skin's ability to heal itself. These can be performed every 4-6 weeks. TCA CROSS has been used for years by Dermatologists for scarring and in studies 75% of patients have had good to excellent results. If no improvement is seen by the 3rd session it may not be helpful to continue. Your final results are permanent as it is your own collagen that is produced. If this simple, inexpensive treatment does not yield the desired results other modalities, listed as alternatives above, can then be used without a problem.
What is the down time?
There is some frosting, redness and crusting will appear then the scar will slough off to reveal a smaller, tighter or shallower scar. Continued healing and redness may persist for 6-12 weeks.
What is the aftercare?
Please do not put anything on the skin for at least for 24 hours. You MUST shield your skin from the sun in the following 2-4 weeks with daily SPF 30+ (not for the first 24 hours).
What are the side effects or complications?
- Hyperpigmentation and hypopigmentation can occur, however these are often temporary but can last up to a year.
- Minimal or no results. There are several factors that are implicated. Poor results may be as a result of an unhealthy diet, lifestyle choices, chronic disease, failure to abide by post treatment care advice, poor collagen or poor wound healing for other reasons.
- Scars can widen. This is because of the above.
- Infected skin.
Summary:
A quick, inexpensive way of treating very stubborn acne scars that can impact social ad psychological wellbeing. There are options, don't suffer in silence. Find out what your options are and make a start at getting your confidence back.
Who am I?
I'm Dr Maeve Kenningham and my clinical experience spans 25 years of GP, Dermatology and aesthetics. I use ultrasound to improve injection safety. I give honest trustworthy advice on what will deliver results. My clinic is near Rossett 1/2 way between Chester and Wrexham. There's easy parking. Click on the link or call us on 07711190079
Do you want to achieve a natural and more
youthful appearance? Book a consultation
with Dr K in her award winning clinic
Contact me today