WANT A TREATMENT FOR SAGGING, LOOSE AND CREPEY SKIN OF THE NECK?
24/02/23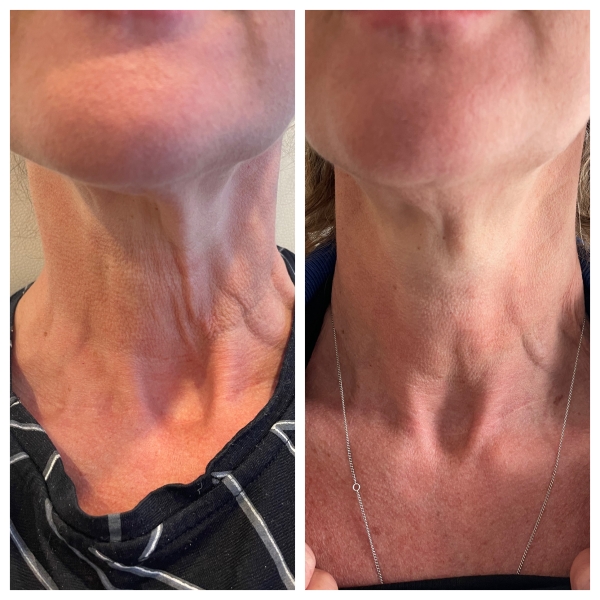 Sagging skin occurs everywhere on the body as we age. This is because we start to lose our collagen and elastin production from the age of 20. Collagen and elastin in skin provides the lift and stretch that is in youthful skin. When we age we lose about 1% of our collagen every year so by the time we are 45 we have 25% less collagen than when we were 20. If you have less structural support of the skin this means the canvas looks more crinkled and loose so it is why our skin appears lined, sunken and sagging.
I often recommend Hyperdilute Radiesse as a great treatment option for loose and sagging neck concerns. I have been using this bio stimulator Radiesse as a dermal filler for many years and am really impressed by its performance when diluted with saline and lidocaine (a numbing drug). The calcium hydroxyapatite molecules in Radiesse bio stimulate the body to build new type 1 collagen and when it is injected in a hyperdiluted manner, it effectively boosts your own natural skin repair mechanisms in your skin.
Calcium Hydroxyapetite (CaHA) occurs naturally in our bones structure, builds tooth enamel and exists in tiny amounts in the brain. Your body accepts it as a natural part of the body so allergic reactions to it are very rare. It is considered bio-compatible (it is rare for the body to react to it) and biostimulating (your body stimulates your own natural tissue production). We have used CaHA extensively in NHS medicine and surgery for years. When injected, these tiny particles of CaHA eventually dissolve into carbon dioxide and water over time but whilst they are there they act as a type of skin "fertiliser" or bio-stimulant. The result is smoother, firmer and more resilient skin.
Type 1 collagen is the most desirable type of collagen; it is what younger skin is full of. It's the most elastic of all the collagens and the best news is that Radiesse as a bio stimulant gets you to make your own!
WHAT CAN HYPERDILUTE RADIESSE HELP WITH?
Great skin results can be achieved where there is lax skin with aging of the; face, neck, decollete (chest wall), tummy, knee lines, stretch marks, and the under arm area.
HOW IS RADIESSE INJECTED?
To cover large areas the best way to have your treatment is with a cannula. These are like long needles but instead of a sharp end, the end is blunt but there is a small hole at the side. This means you only need 1 needle entry to create a hole, then the cannula (with the syringe of hyperdilute Radiesse attached) glides under the skin and deposits the product all over. This means less bruising as vessels tend not to be punctured and also ensures it's safer.
WHO CAN HAVE HYPERDILUTE RADIESSE?
If you are bothered by laxity and lines of the skin on the face, neck, chest wall, tummy, knee lines, tummy stretch marks and/or under arm area are great candidates for this treatment. However, it's not for those patients who are allergic to the Calcium Hyroxyapatite or have autoimmune conditions.
HOW MANY TREATMENTS WILL I NEED?
Depending on the initial assessment and your lifestyle, you will be advised at the consultations how many sessions you are likely to need. Anything between 1 to 3 sessions are needed to achieve the aesthetic effects desired. The treatment session usually takes about 30 minutes depending on the area to be injected, and are spaced one month apart. The results usually last anywhere between 9 to 18 months.
ARE HYPERDILUTE RADIESSE TREATMENTS SAFE?
Radiesse was approved by the FDA as a facial filler and biocompatible biostimulant at the end of 2006 and used extensively in the UK since then. Using hyperdiluted Radiesse is currently "off license" meaning the manufacturers haven't licensed it in it's diluted form. However as a Dr and GP I have used a lot of medications "off-license" when there is a significant body of evidence that it is safe and appropriate to do so.
ARE HYPERDILUTE RADIESSE TREATMENTS PAINFUL AND WHAT IS THE DOWNTIME?
Radiesse is mixed with both saline and lidocaine, a numbing medicine. This means once the initial injection goes in, the skin feels numb and so the treatment is very tolerable. Most people report a discomfort of 2 out of 10, 10 being painful.
There is no down time really. There may be a little bit of bruising or swelling, however this can be easily covered with camouflage makeup 48 hours later. It is very important to keep the injected skin very clean for at least 24 hours after your treatment until the injection holes have naturally healed. It is extremely important to avoid infection of this implanted material. However, patients can get back to their normal activities straight after their treatment.
CAN THIS TREATMENT BE COMBINED WITH OTHER TREATMENTS?
Yes! To achieve the best results sometimes Profhilo, Botox (Botulinum Toxin), microneedling with devices such as SkinPen, medical peels and/or home topical therapy is recommended. However, it is always the case in Dr K's Clinic you will be advised on what is likely to give you the most noticeable and long lasting results in the long run.
WHAT OTHER BIO STIMULANTS ARE THERE?
Radiesse is only one a few biostimulants that are used in clinic, others are Sculptra (PLLA from Galderma) and Ellansé (PCL from Sinclair). HArmonyCa is a new biostimulator from Allergan who also make Vycross, Juvederm and Botox. This new bio stimulator is a mixture of CaHA and hyaluronic acid (a common reversible filler material). As biostimulant popularity grows, more products are coming onto the market such as Lanluma, Gouri and Neuvia Stimulate there are plenty to choose from. There are lots of benefits to having biostimulants, because producing your own collagen and having a fresh glow to your skin will always be in fashion.

HOW DO I BOOK IN?
My clinical experience spans 25 years of GP, Dermatology and aesthetics. I use ultrasound to improve injection safety. I give honest trustworthy advice on what will deliver results. My clinic is near Rossett 1/2 way between Chester and Wrexham. There's easy parking. Click on the link or call us on 07711190079
https://www.drkenningham.co.uk/contact-me/#appointments
Do you want to achieve a natural and more
youthful appearance? Book a consultation
with Dr K in her award winning clinic
Contact me today