What are the best treatments for the under eye area?
30/12/22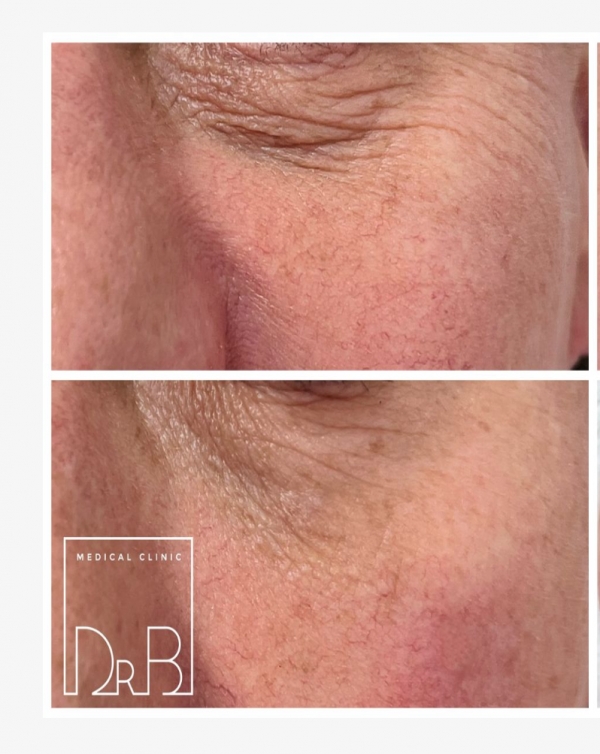 Do people comment you look tired? Do you think your eyes make you look exhausted even if you feel fresh and awake? Are you fed up of having to apply oodles of concealer to hide your dark circles under your eyes? Or maybe it's those cowsfeet that are now extending down your face and no longer look like cute smile lines? Whatever it is that is bothering you here is a run through of the treatment options that are often done in combination for the best results.
The best treatments for dark, pigmented, dehydrated, loose and wrinkly skin in the under eye area:
- Eye cream. Of course this is going to take a while but the ingredients to look for are:
- 4-Butylresorcinol, Peptides, Chrysinimide, Niacinamide, Azeliac acid, Tranexamic acid, Arbutin, Arginine, Bakuchiol, Vitamin C and SPF. These ingredients have good scientific data they improve pigmentation and skin quality.
- Natural biostimulators like microneedling, radio frequency microneedling, chemical resurfacing (with modern no peel peels), mesotherapy (Light Eyes meso) and Dermalux Red LED treatment combinations are a fantastic way to rejuvenate the skin in general but also the delicate under eye area. 2-4 treatments may be required to achieve desired results and may be repeated 6-12 months later.
- Botulinum Toxin. Its pet name is Tox in aesthetic medicine but it is also known as Botox. Botox is just one brand of Tox, there are others in the UK market eg: Azzalure, Dysport, Alluzience, Bocouture, Xeomin and Jeaveau. Yes Tox is useful to soften mild to moderate crowsfeet, but if the skin around the eyes are very loose and lines extend into the outer cheek you may get an odd and un-natural look. Tox has it's limitations.
- Platelet Rich Fibrin. This fantastic natural concoction harnesses your own growth factors to produce tighter and brighter skin. It involves taking your blood from your arm, spinning it to capture the most growth factors, then injecting the concentrated serum back into the skin. 2-4 treatments may be required every 4-6 weeks. However, when you reach your desired goal, maintenance will be every 9-12 months as your skin will continue to age.
- Polynucleotides eg- Nucleofill/ Nucleadyn. This "new kid on the block" has lots of scientific data behind it. Once injected it will increase in collagen, elastin and your own hyaluronic acid that will give you plump and resilient skin. They have also been shown to improve blood supply, bone and muscle revitalisation in the area it is injected. 2-4 treatments may be required every 2-4 weeks. When you reach your desired goal maintenance will be every 6-9 months as you will continue to age.
- Surgery on the eyes. This is known as a Blepharoplasty. If you have a lot of loose skin and herniated fat pads under the eyes giving you eyebags, non-surgical methods may not give you the results you would like. Non- surgical treatments whilst non-invasive and cost effective have their limitations. This may be recommended during your consultation.
The best treatments for replacing lost volume and hollows under the eyes are:
- Polynucleotides have a hydrating and a very slight plumping effect under the eyes as well as a skin tightening effect explained above. This treatment has a lot of advantages for long term improvements. Did you know your naturally made collagen and elastin have a half-life of 5 years and more. However, as the skin, soft tissues and bony eye sockets will continue to change with ageing, 6-9 monthly top ups are recommended to keep your eyes looking their best.
- Tear trough hyaluronic acid (HA) treatments are still very popular and for good reason. This treatment provides instant results when HA is injected in very small amounts in strategic injection points in the cheek and tear trough area. However, the complication rate of this treatment is very high, leading to 1 in 4 treatments resulting in swelling and unsightly results, even years down the line. Experience and medical knowledge means complication rates in our clinic are negligible. Once results are achieved it is likely you will be happy with results for up to 18 months.
- Surgery on the eyes. This is known as a Blepharoplasty with fat pad repositioning. If you have a lot of volume loss under the eyes, facial fat pat re draping or fat injections can give you more dramatic results and longevitiy than a non-surgical approach. Non- surgical treatments whilst non-invasive, may not be as cost effective as the surgical options. This may be recommended during your consultation.
What will give you the best results for your under eye area?
This is where your medical specialist injector will help you. As a GP I expect my patients to come with their concerns and I will advise, based on my expert knowledge and experience, what is most likely to help you. This will be done after an in depth consultation where we will discuss your medical history, aesthetic aspirations and after a detailed physical examination. Then a treatment plan will be discussed.
Sometimes this will include several modalities. As an ethical medical clinic we will be open and honest with you. We will advise on how the treatment is administered, what your aftercare is, discuss unusual but possible complications and also outline the costs involved. It is best to spend time to consider all of this information for at least 24 hours and then return to clinic for your treatment another day.
How do you find out more?
First book a no obligation consultation at my private clinic, this is 1/2 way between Chester and Wrexham in a countryside setting with lovely gardens. I have been an NHS GP since 2001 and been a practising Aesthetic and dermatology doctor since 2012. I give honest trustworthy advice on what will deliver results. If you would like a consultation click on booking link below
https://www.drkenningham.co.uk/contact-me/#appointments
or call us on 07711190079.
Do you want to achieve a natural and more
youthful appearance? Book a consultation
with Dr K in her award winning clinic
Contact me today