What is Profhilo? How is it different from Botox or fillers?
02/01/22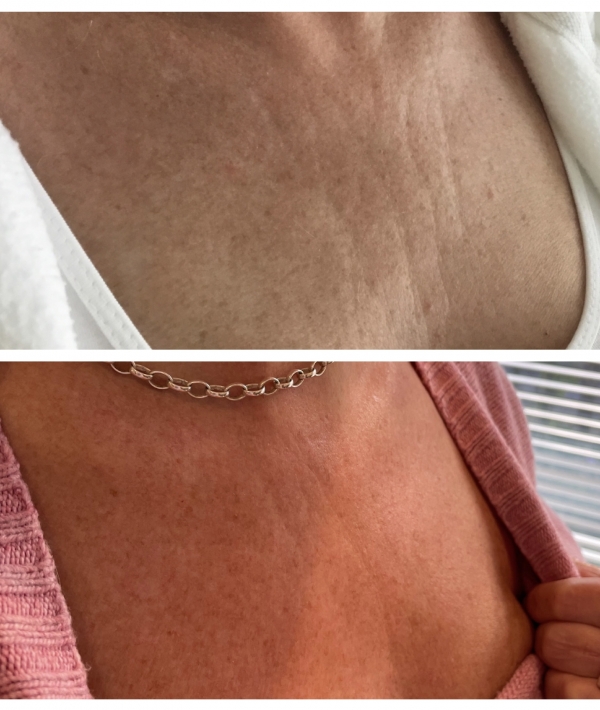 Profhilo is made up of hyaluronic acid (HA) that, when injected, spreads under the skin creating an intense hydration (HA can absorb x100 its weight in water) and stimulation of your natural collagen and elastin. It's effect is like a liquid moisturiser. Some dermal fillers are also made of hyaluronic acid but are bonded so that they give a more defined lifting effect. Treatments with Botox simply reduce the contractions of the muscles that cause lines and wrinkles. I frequently use all three in my treatment plans for patients, as they do different things for the skin and this creates a more holistic and fresh looking result.
How long does Profhilo last?
Profhilo lasts in the skin around 28 days. During this time the stimulation of 4 different types of your own collagen (Types I, III, IV and VII) and elastin takes place. Full results are seen 4 weeks after the second treatment session as your skin produces more and more collagen and elastin, however, changes are often noticed after the first session. Some patients with a lot of ageing or sun damage may need 3 sessions, 4 weeks apart to create effective bio-remodelling. The results last between 4-6 months but this depends on the patient's lifestyle and diligence with skincare.
What areas of the face or body can be treated?
Although the manufacturers recommends the use of the standard 10 injection point technique (BAP) of the face, many advanced injectors (including me) have injected it in an off-license manner to treat specific concerns such as acne scarring, vessel gullys, marked cheek lines etc, to great effect. I have also had beautiful results from Profhilo in the neck, décolleté, upper arms and backs of hands where the skin often needs a global regeneration.
Can everyone have Profhilo?
It has a low inflammatory profile making it very biocompatible with pro-healing properties. However, those who have the following will need to discuss this with their medical aesthetic provider:
Allergy to Hyaluronic Acid.
Active infection or inflammation in the skin area to be injected eg: active acne or cold sores.
Previous keloid or hypertrophic scarring.
Currently pregnant or breastfeeding.
Currently taking blood thinning agents (for example Aspirin, Clopidogrel, NSAIDS, Warfarin and Apixaban) as risk of bruising is higher.
What did this lady have?
This lovely lady in her mid 50s loves to wear pretty tea dresses in the summer. However she didn't like the look of her ageing décolleté and so asked for my help to rejuvenate and freshen the area. This was her result after 3 sessions of Profhilo, 4 weeks apart. She was delighted with her results and if she uses the prescribed medical grade skincare at home, she can maintain this appearance with 1 injection every 4-6 months according to preference.
In summary Profhilo gives the skin a hydrated, dewy appearance. If you'd like to know if it's right for you, book in for a consultation with me, Dr Maeve Kenningham, at my boutique relaxed clinic in the North Wales countryside, half way between Chester and Wrexham.
To contact us today on 07711190079 or visit
https://www.drkenningham.co.uk
for more information and online booking. Having any aesthetic injectable intervention can be daunting. Take your time to do your research and find the best person for you.
Do you want to achieve a natural and more
youthful appearance? Book a consultation
with Dr K in her award winning clinic
Contact me today