Will Botox and fillers make me look weird?
25/02/23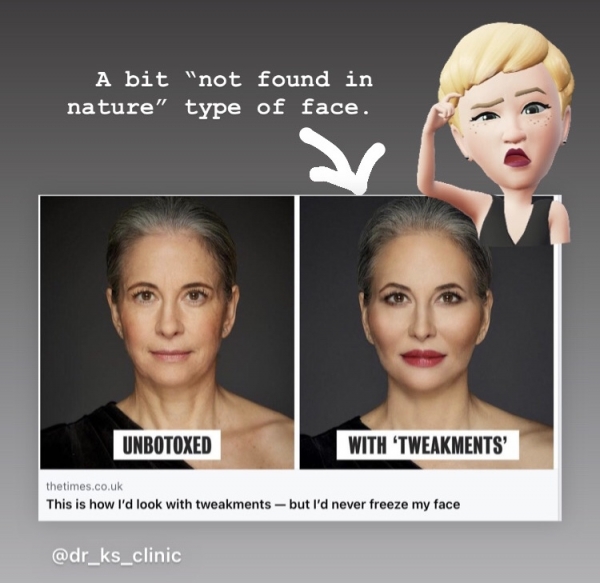 Let me summarise this article in the Times about non-surgical treatments:
This lady was aghast at the number of her colleagues in the fashion industry who have had "work" done. She goes on to berate how their now distorted appearance made her feel uncomfortable. She described how misogyny in society lead to people wanting to drastically alter their faces and the resulting addiction to injections that WILL ensue. Lastly, at the end of this piece she has links to jade rollers and other mumbo jumbo that will not do anything for an ageing face but she'll get a commission on purchases, of that I have no doubt.
The opinions she offers here are a load of tosh! DOI I'm an aesthetic doctor.
I have "tweakments", and I also wear makeup, wear nice clothes and like to have my hair cut and coloured. I'm not lacking in confidence nor do I do these things to please anyone but myself. I do not value my appearance higher than my intellect and my humanity towards others. I am not addicted to interventions. I just value the self-assuredness "tweakments" give me. It's the same for my normal looking and the happy patients I have treated in the last 10 years.
The CGI image in this article is grossly distorted and un natural looking. To suggest all "tweakments" will all end up looking like this is grossly unfair. However, I think her perception of the people "in her world" are probably true. I too despair when I go to international conferences and witness odd "NOT FOUND IN NATURE" faces. So yes there are people who have Botox, fillers, threadlifts and all manner of non-surgical treatments that don't look natural. Maybe these people like their appearance, just the same way they like garish clothing and accessories. Each to their own and I like to live and let live.
Not all Botox and fillers will create the same end result as not all injectors are the same. Let's compare an artist to an aesthetic doctor. If you give Damien Hirst a paint brush, paints and a canvas you will get a different painting than if you gave the same tools to a toddler. It's very similar in aesthetic medicine. It's very easy to pick up a syringe and plunge the contents into a face in a " paint by numbers" way and it is this way of treating a face is what is wrong. It's NOT the tools, it's the workman that is at fault.
I think your friend who just looks good for her age is having "tweakments" but is not telling you because of fear of judgement (as displayed by this angry journalist). You may think it's her new haircut, her new makeup or her recent no needle facial? It's probably none of these.
It's well researched that more attractive people get more job and relationship opportunities than those who are less blessed. It's an unpleasant reality but unfortunately it's true. If you are interested in doing something to improve your well being, improve your skin health, feel great for a special occasion or just want something done to improve a feature that makes you screen your photos, then go ahead make a start.
Just do some thorough research, avoid the salesperson (more product= more profit) and pick a safe aesthetic injector who shows you the before and after images you like. Lastly, in over 10 years of aesthetic medicine I don't think there is an addiction to treatments, just like I don't think there is an addiction to having your hair cut. Your hair grows long and likewise your face ages again over time. That's why some people chose to have maintenance treatments.
People it's the soft subtle and harmonious treatments that are just what the doctor ordered!

Who am I?
I'm Dr Maeve Kenningham and my clinical experience spans 25 years of GP, Dermatology and aesthetics. I use ultrasound to improve injection safety. I give honest trustworthy advice on what will deliver results. My clinic is near Rossett 1/2 way between Chester and Wrexham. There's easy parking. Click on the link or call us on 07711190079
https://www.drkenningham.co.uk/contact-me/#appointments
Do you want to achieve a natural and more
youthful appearance? Book a consultation
with Dr K in her award winning clinic
Contact me today