Blog
30/04/21
Injectable treatments such as Botox and dermal fillers are not without medical risk. It is estimated almost 30,000 dermal filler procedures were undertaken on those under 18. Thanks to the &...
Read more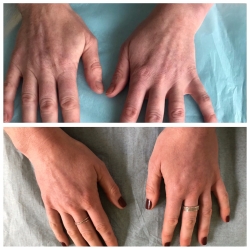 26/04/21
I have some patients who are bothered by the appearance of their hands. I wonder if it's because we look at them all the time and the battering we give them. Here's an example of what...
Read more
21/04/21
I guess you thought it was illegal to inject a child with fillers? Unfortunately it is not. Shocking, and this madness must stop!Baroness Wyld discussed this Bill in the House of Lords on the 16th of...
Read more
05/04/21
Let me tell you about my opening and the answers to some FAQs. Are you open? Yes, I've been open again since the 12 April 2021.There are appointments Tuesdays and Fridays. When long waiting...
Read more
05/04/21
I'm so excited to bring this really natural rejuvenating treatment to my clinic. Here's some FAQs on what all the fuss is about. What is it?Platelet Rich Fibrin (PRF) and Platelet Rich...
Read more
30/03/21
There have been some recommendations coming out from clinics with rules like: DON'T HAVE YOUR VACCINE FOR 2 WEEKS BEFORE OR 2 WEEKS AFTER YOUR FILLER!There is very little in scientific literature...
Read more
Do you want to achieve a natural and more
youthful appearance? Book a consultation
with Dr K in her award winning clinic
Contact me today