Blog
03/11/20
I am re-opening for medical aesthetics only in my clinic on the outskirts of Chester, in Burton by Rossett. I'm just inside Wrexham Borough's border here in the lovely Welsh countryside. If you would...
Read more
22/10/20
There is the opportunity to book a complimentary telephone/ WhatsApp video consultation with Dr Maeve on a Tuesday, Thursday or Friday (lunch time or evening). Go to the booking button on the...
Read more
11/10/20
Rather than more drastic measures like surgery, neuromodulators (toxins like Botox, Azzalure, Bocouture) can soften those lines that form in the frown, forehead and crows-feet. One can also use other...
Read more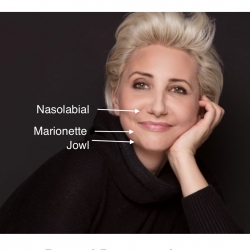 23/09/20
Here's the link to my YouTube video that explains why we get them and what I use to treat them.I use a mixture of HA fillers, bio-stimulator fillers and threads to treat the nasolabial...
Read more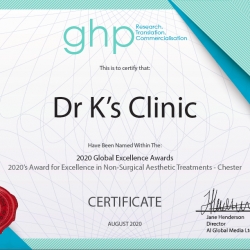 19/08/20
I have brilliant news! I was nominated for and won the 2020 award for excellence in Non-Surgical Aesthetic Treatments- Chester! Don't be skeptical, this isn't a "Doctor of the year...
Read more
06/08/20
Here's a link to a youtube video where I explain my professional opinion on what the best ingredients are for improving your skin! Click here to view a video on skincare I'm afraid I am...
Read more
Do you want to achieve a natural and more
youthful appearance? Book a consultation
with Dr K in her award winning clinic
Contact me today